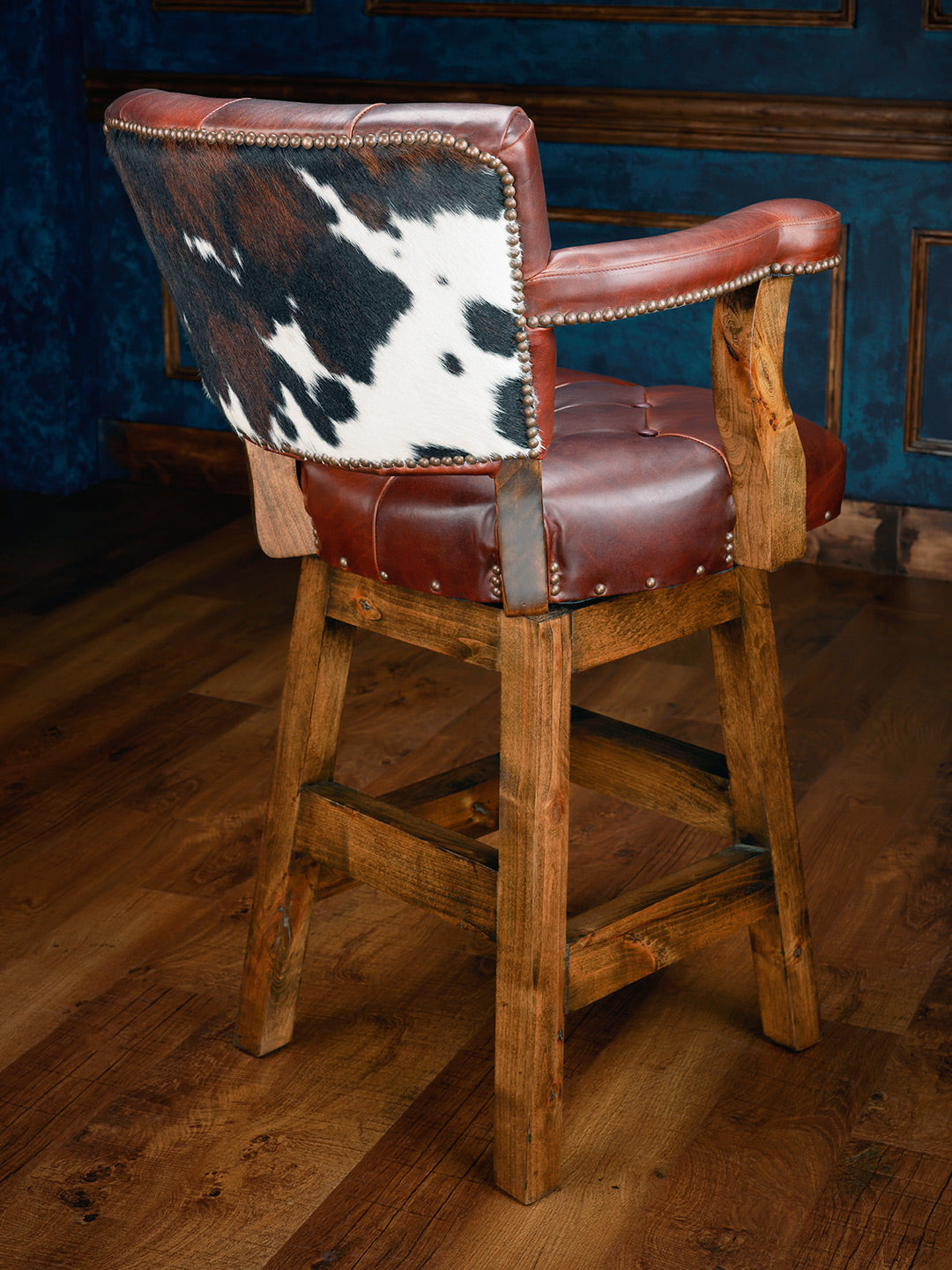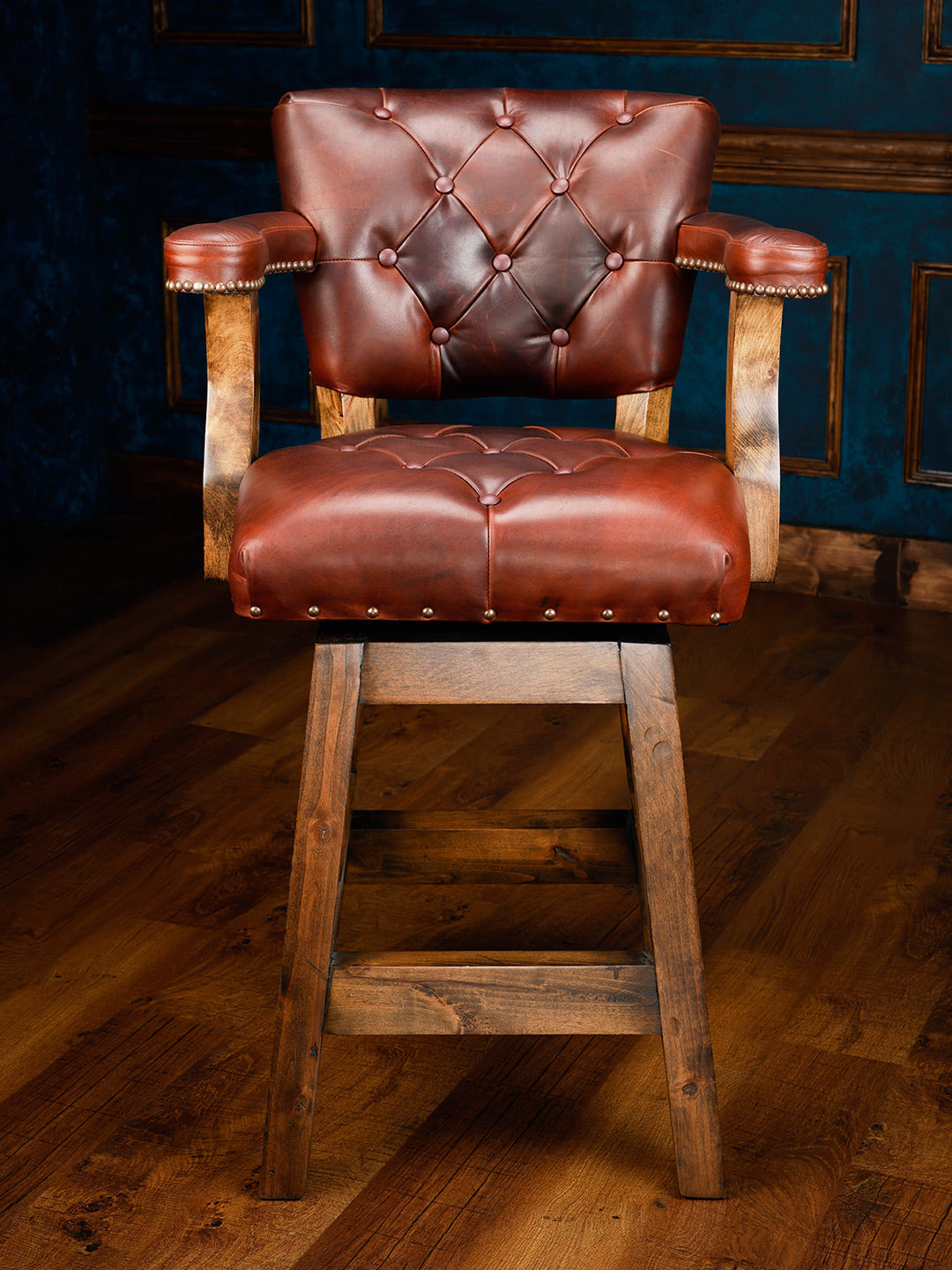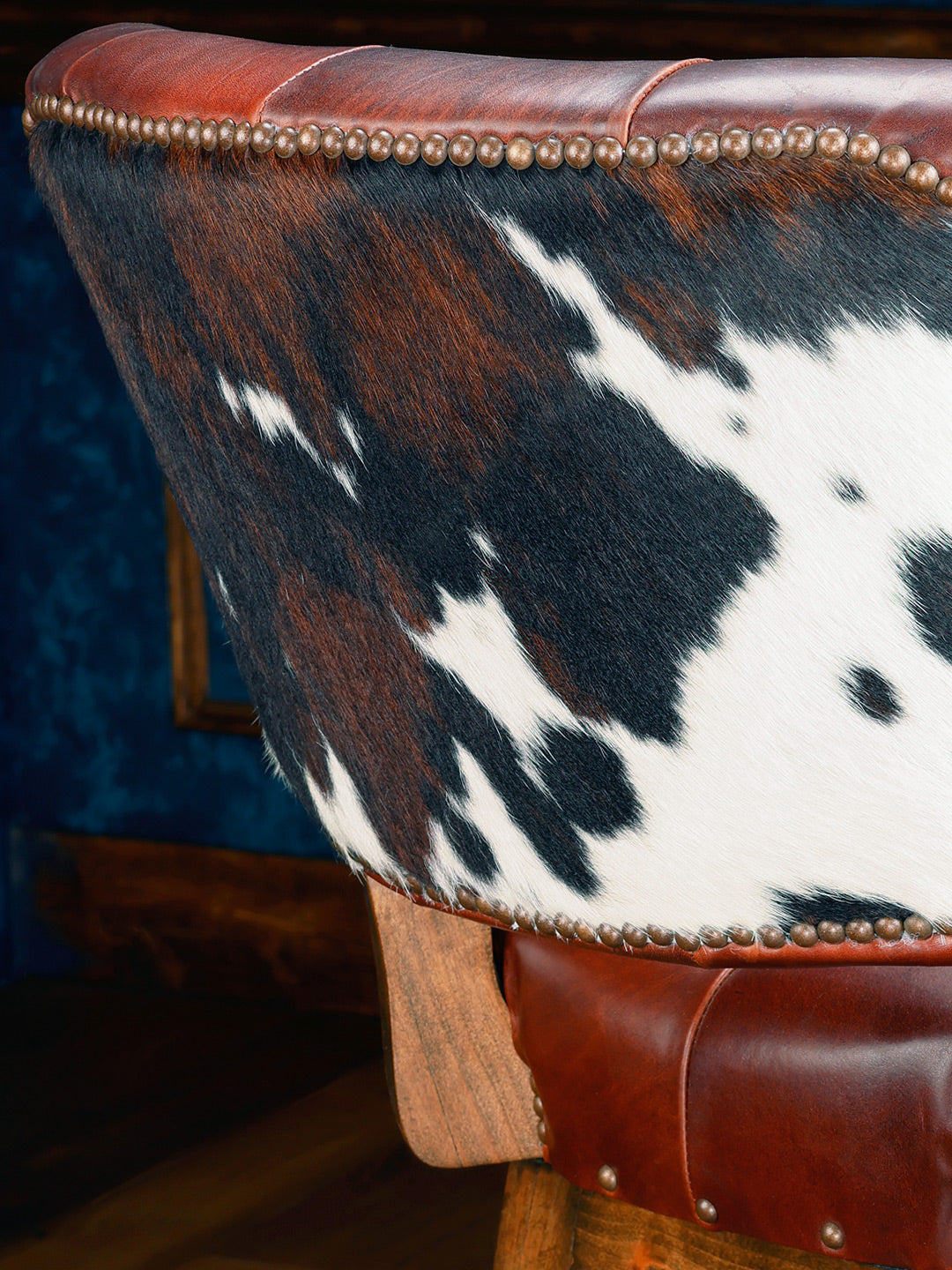 Tufted Galaga Honey Leather Chisum Bar Stool
The Tufted Galaga Honey Leather Chisum Bar Stool gives off an inviting look, featuring a chestnut finish alder wood frame, tri color brindle cowhide backing, and high quality leather.
8-12 week production time.
* Galaga Honey Leather
* Tri Color Cowhide on Outside Back
* Tufted Buttons
* 360 Degree Swivel
* Alderwood: Chestnut Finish
* Nail Heads
*Customization Available

Overall Bar Stool Dimensions:
43" H x 26" W x 22" D
Seat Height: 30"
Seat Width: 20"
Seat Depth: 19"
Top of Arm Height: 38"

Overall Counter Stool Dimensions:
38" H x 26" W x 22" D
Seat Height: 24"
Seat Width: 20"
Seat Depth: 19"
Top of Arm Height: 34"
The Tufted Galaga Honey Leather Chisum Bar Stool is a standout piece that invites you to relax and unwind. It's soft Galaga Honey toned leather is carefully tufted with buttons to add depth and dimension to its vividly rustic personality. Soft to the touch, the cushioned rustic bar stool is designed to offer you plenty of space to sit down, lean back, and enjoy hours at the bar counter without discomfort creeping in. The beautiful honey leather is complemented by the abstract natural spots on the tricolor brindle. The chair's crafted alder wood frame comes with a chestnut finish, which ages naturally along with the leather upholstery. A wonderful spot to lounge, this bar stool adds to your home's ranch-style aesthetics and creates a cozy nook that you will revisit often. Made in Texas using 100% top grain leather.

AVAILABLE TO BE CUSTOM ORDERED WITH A LARGE SELECTION OF DIFFERENT LEATHERS & HIDES.

Variations in grain, texture, color, and hue distinguish 100% top-grain cowhide leather. Expected healed scars and markings only adds to the skins' inherent beauty. These differences are characteristic of genuine 100% top grain cowhide leather and should not be perceived as flaws.
Leather
Galaga, a remarkably soft, full-bodied aniline leather adds character and dimension while also subtly enhancing the overall appearance. All tightly upholstered sections will be accentuated by the lovely color burst when pulled or stretched. Due to this lovely pull-up effect, please expect dark and light regions.

Galaga Characteristics:
Type: Aniline Leather
Effect: Waxy Pull Up/Patina Over Time
Color: Honey
Feel: Soft; Waxy Hand
Sheen Level: High Waxy Gloss

Hair on Hide:
Cowhide that has retained its natural coloring and hair. Brown/white spotted or speckled, black/white spotted or speckled, tan/white spotted or speckled, and brindle light or dark exotic are just a few examples of the many combinations that can be customized onto product.. There is little control over the final hue, making each hide unique.
AVOID using general-purpose leather cleaners, homemade concoctions, and household cleansers. If a spill occurs, gently blot the area with an absorbent, sterile, dry cloth. Spills and soiling should be removed immediately to avoid lasting discoloration on pure aniline leathers due to its lack of having a protective finish. To assist minimize fading, avoid positioning furniture directly in front of the sun.
NOTICE: Pricing may vary when customizing.
*White Glove/Blanket Wrapped Delivery Available.