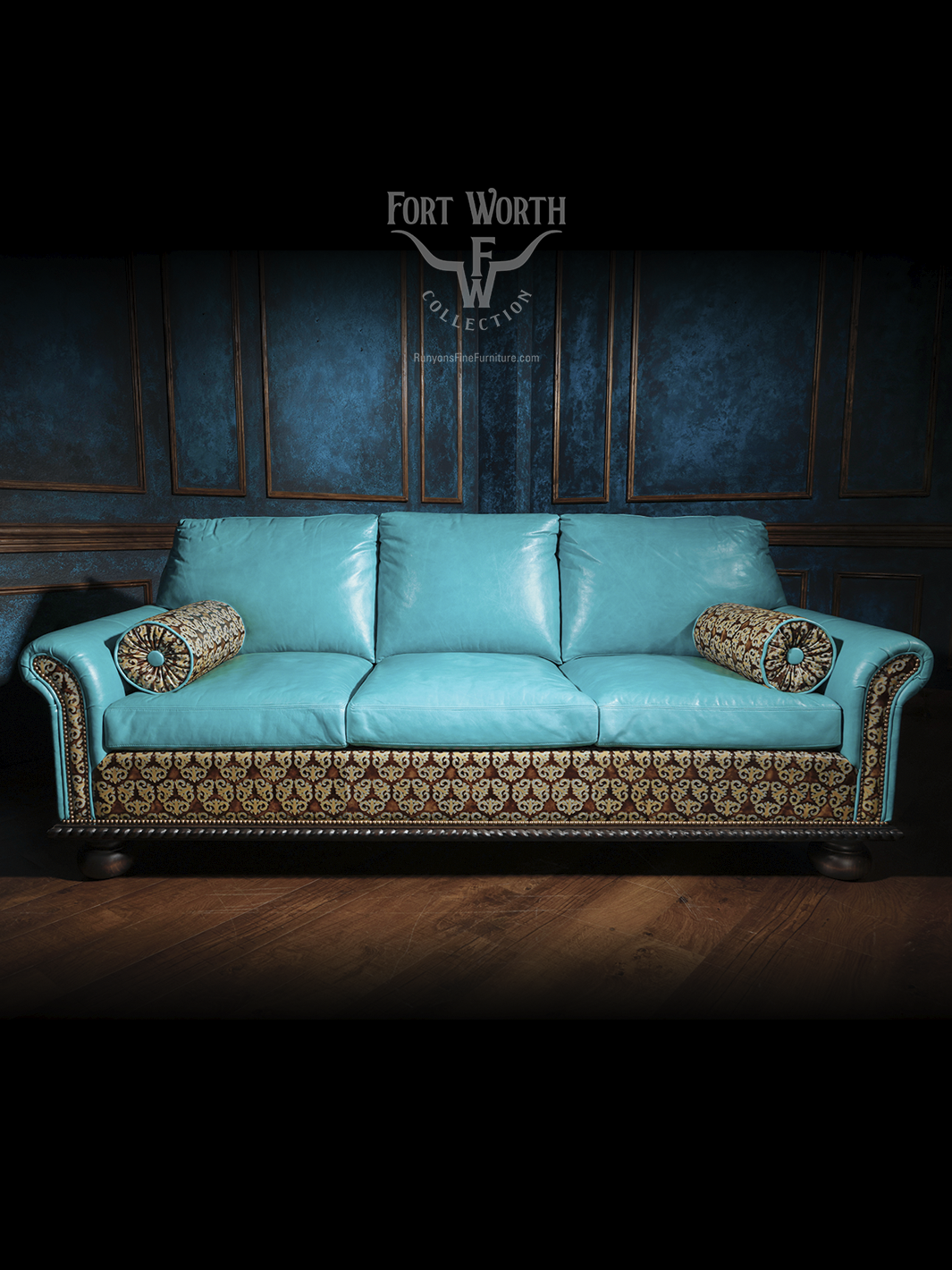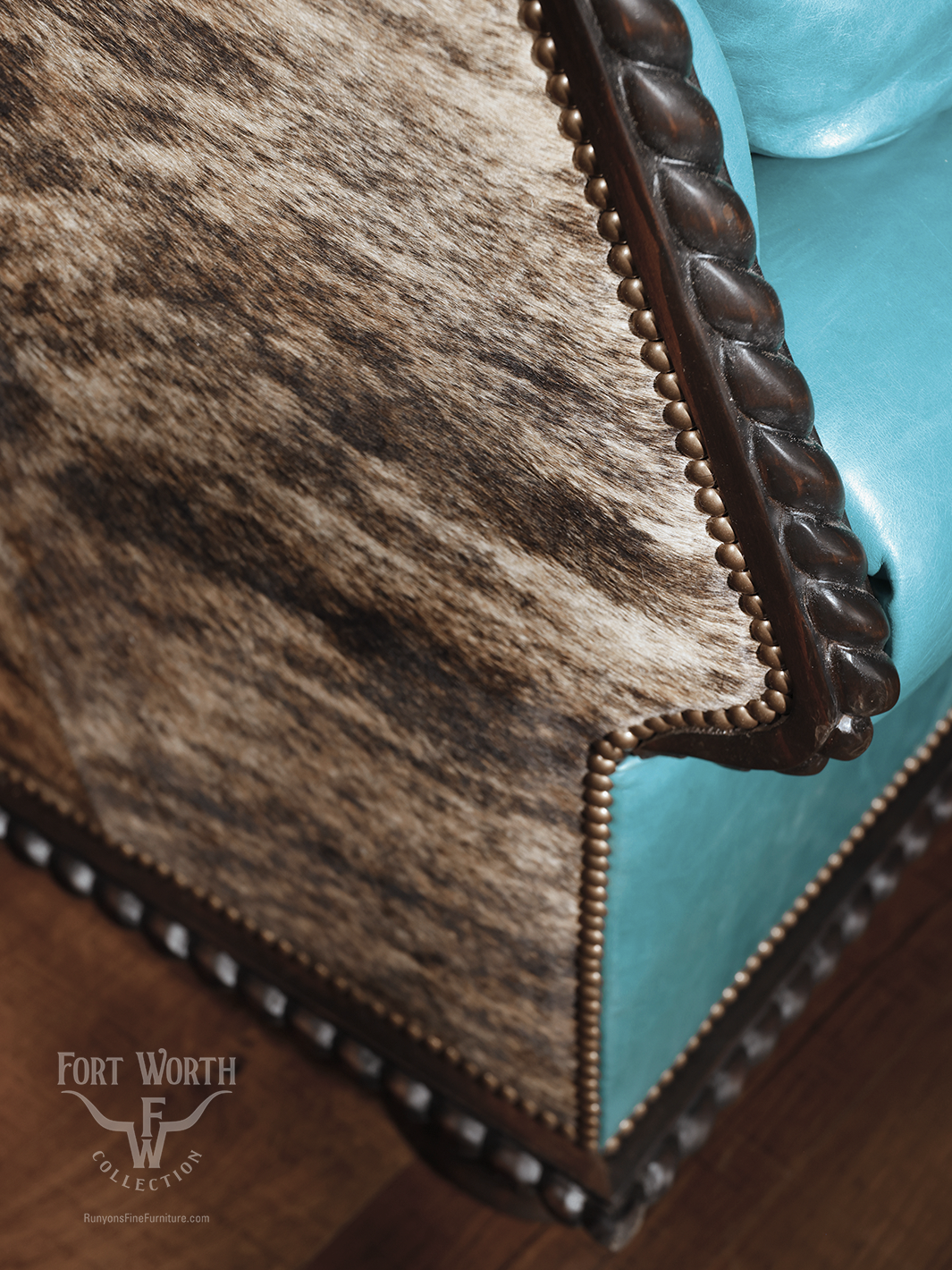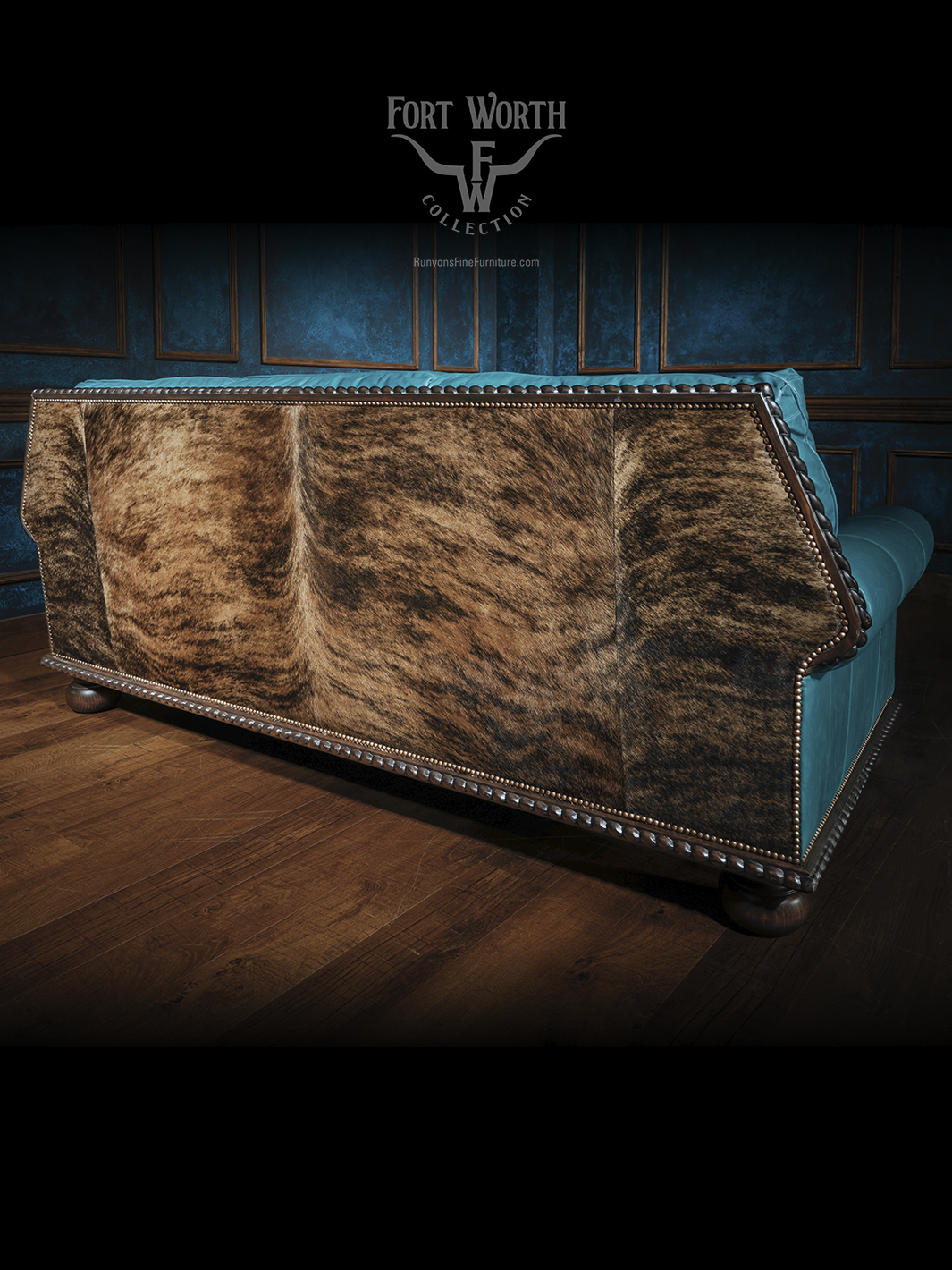 Cowboy Caribbean Blue Leather Sofa
This handcrafted Cowboy Caribbean Blue Leather Sofa is a high-quality piece for any living space. It features a Caribbean blue leather body, embossed trim and pillows, and a grey brindle back, all designed and made in Texas. The perfect combination of comfort and style!
*Mont Blanc Solid Genuine Leather
*King Turquoise Brown Embossed
*Tan Brindle Outside Back
*(2) King Turq. Brown Embossed Pillows included

Dimensions:
87 " W x 36 " H x 36 " D
The sofa has a straight, solid wood, seat back frame, and the top of the seat back frame is accented with an ornate, hand carved, twist rope design. The front seat back has three, well padded cushions, and each seat back cushion is upholstered in luxurious, turquoise colored, full grain leather. The reverse seat back is upholstered with patterned cowhide, and the cowhide is hand tacked to the frame with beautiful gilt nails. The sofa has a comfortable, wide seat with three, loose, padded seat cushions. The seat cushions, its round, padded armrests, and the exterior sides of the sofa are upholstered with matching, turquoise colored, full grain leather. The front of the armrests and the lower front of the sofa are upholstered in contrasting, patterned, full grain leather, and both are accented with gilt nails. The entire lower solid wood base is enriched with a hand carved, twist rope design. The sofa rest on hand turned, bun style feet, and the feet have a classic finish. The frame is made with the best, sustainable, solid wood available, and the sofa is 100% customizable. The sofa is accompanied with two, beautiful, tubular shaped pillows, and each pillow incorporates the same leather upholstery as the sofa.
The allure of Mont Blanc is found in the combination of its distinctive features, which range from the wide range of color options that change and become richer with time to the drapey hand and lovely surface made possible by numerous layers of finishing waxes. Mont Blanc carries the legacy and artisanship of the highly trained tanners who put their knowledge and care into every hide. It was tanned in Northern Italy using large-scale English bull hides.

Collection: Mont Blanc

Color: Caribbean

Origin: Italy

Hyde Type: Bovine

Finish: Aniline

Features:
Waxy Pull Up, Color transparency and vibrant pull-up
Tight grain and drapey hand, Rich color palette, burnish and patina with wear & Natural characteristics will be visible
AVOID using general-purpose leather cleaners, homemade concoctions, and household cleansers. If a spill occurs, gently blot the area with an absorbent, sterile, dry cloth. Spills and soiling should be removed immediately to avoid lasting discoloration on pure aniline leathers due to its lack of having a protective finish. To assist minimize fading, avoid positioning furniture directly in front of the sun.
NOTICE: Pricing may vary when customizing.