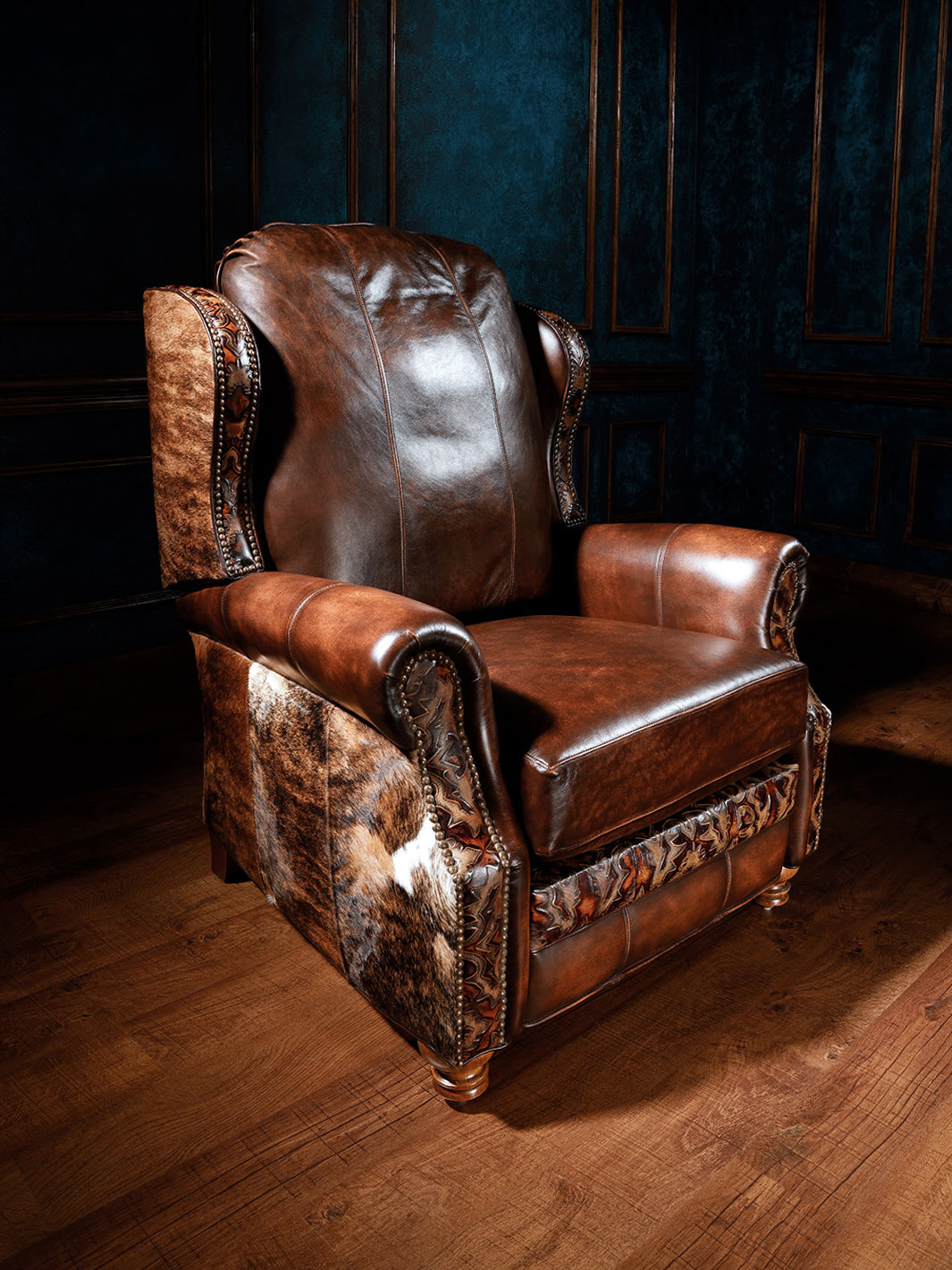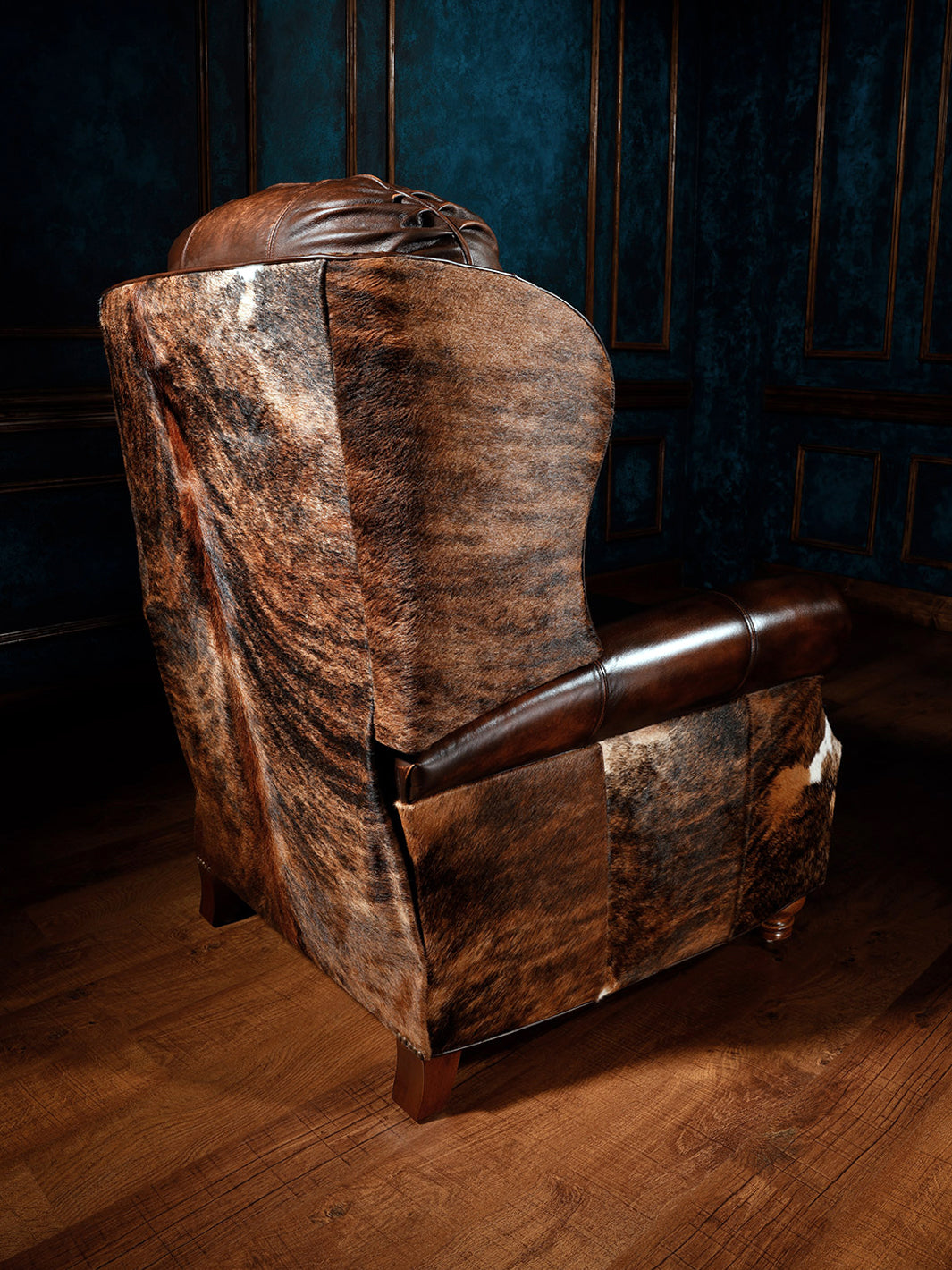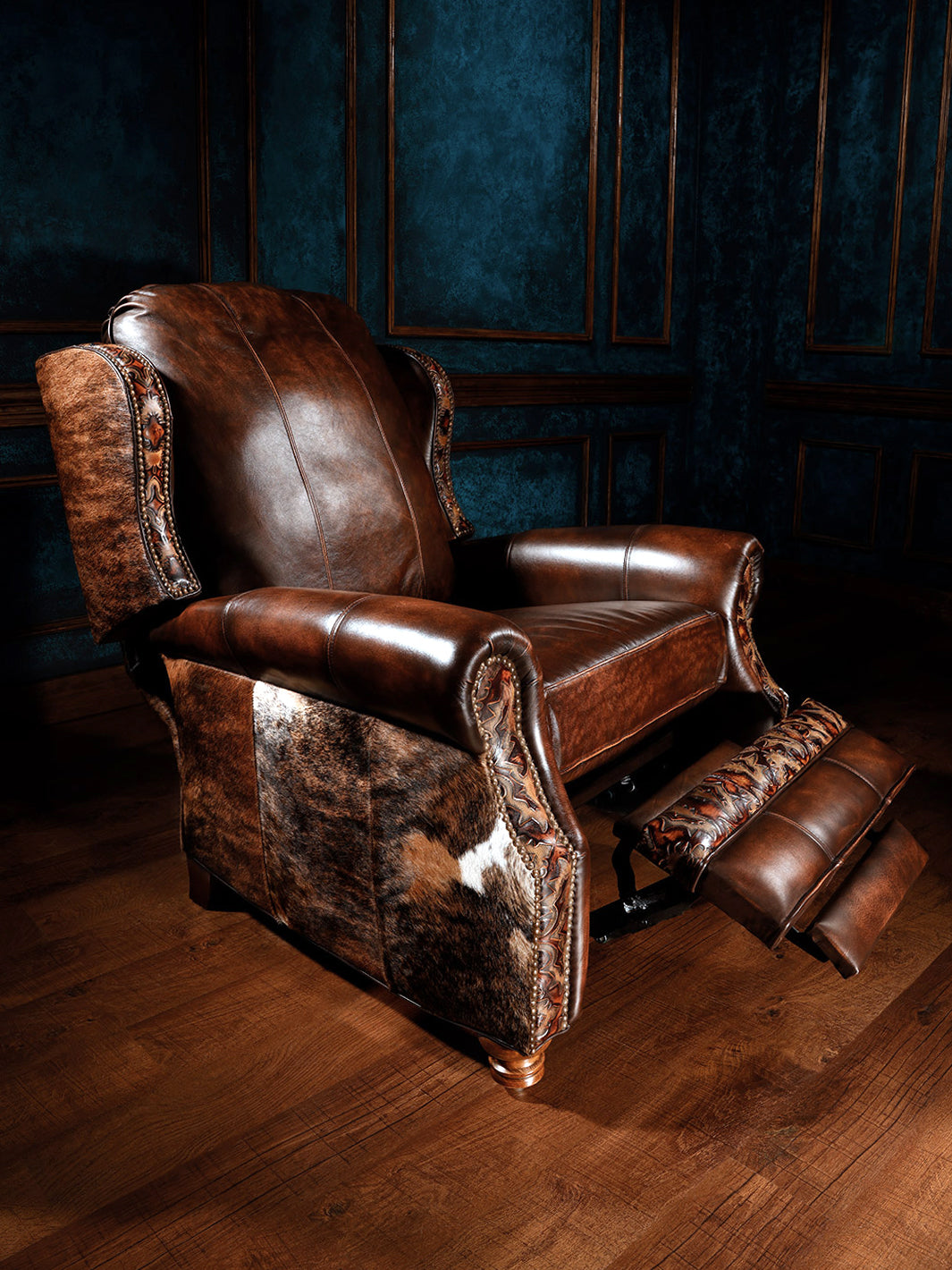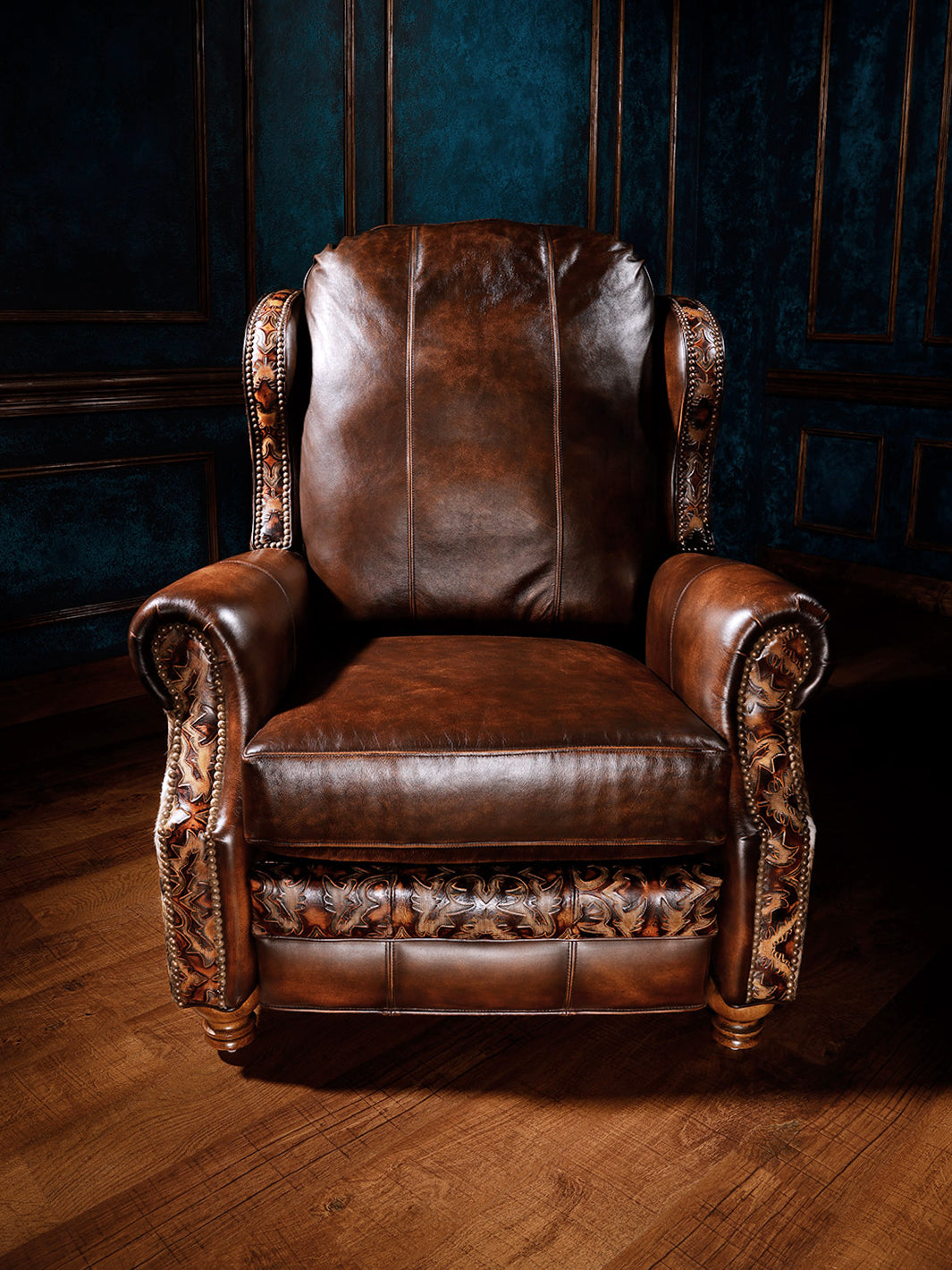 Blackstone Western Leather Recliner
Every living room needs that nook you can call your own—a place you revisit whenever you feel like letting go of the woes of the world and relaxing for a bit. For us and thousands more, it has been this Blackstone Western Leather Recliner.
* Pulgia Brown
* Dark Tri Color Brindle
* Loredo Brown Sepia Embossed Leather
* Non Tufted
* Nailheads
*Alder wood Frame: Chestnut Finish
*Push Back
*Customization Available

Overall Dimensions:
45" H x 39" W x 40" D
Arm Height: 27"
Seat Dimensions: 20" H x 23" W x 20" D
Semi-Attached Back
Overall Layout: 70"
The leather recliner uses Puglia Brown leather on the seat, the back cushion, and the top of the armrests. This dark, brown leather is contrasted by intricately embossed Loredo Brown leather—a pattern so exquisite that it showcases the meticulous attention to detail that goes into this recliner. Medium Brindle Hide is used on the outside back, outside arm and the outside wing, adding vibrance and patterns to this retro, ranch-style western leather recliner. AVAILABLE TO BE CUSTOM ORDERED WITH A LARGE SELECTION OF DIFFERENT LEATHERS & HIDES.

Variations in grain, texture, color, and hue distinguish 100% top-grain cowhide leather. Expected healed scars and markings only adds to the skins' inherent beauty. These differences are characteristic of genuine 100% top grain cowhide leather and should not be perceived as flaws.
Leather
Puglia is a heavy-weight, full-grain leather that is fully natural. Only the crust color and multiple passes of very concentrated pure aniline dyes are used to produce the leather's brown hue. The final spray finish uses anilines of a slightly darker color, giving the leather's surface a faint distressed two-tone appearance. In other words, using the underlying color palette, the leather is "wiped-off" to create a contrast of hues. Puglia exhibits all of the inherent qualities of high quality, including small color variations, changes in the grain, and flaws in the hide. After the leather has been surface-coated with a natural feel coat for a delicate, silky touch to heighten your senses, it is then sealed with a mid-sheen.

Pulgia Characteristics:
Type: Aniline Leather
Effect: Two Toned Effect/Patina Over Time
Color: Brown
Feel: Soft/Silky; Protected
Sheen Level: High Gloss

Hair on Hide:
Cowhide that has retained its natural coloring and hair. Brown/white spotted or speckled, black/white spotted or speckled, tan/white spotted or speckled, and brindle light or dark exotic are just a few examples of the many combinations that can be customized onto product.. There is little control over the final hue, making each hide unique.
Avoid using domestic cleaners, DIY remedies, and all-purpose leather cleaners. Pick a product that is intended for unfinished leathers instead. Avoid placing furniture directly in front of the sun to help reduce fading. Due to the absence of a protective finish, spills and soiling on pure aniline leather should be cleaned up right once to prevent permanent discoloration. If a spill happens, clean, dry, absorbent cloth should be used to blot it up as quickly as you can.
NOTICE: Pricing may vary when customizing.