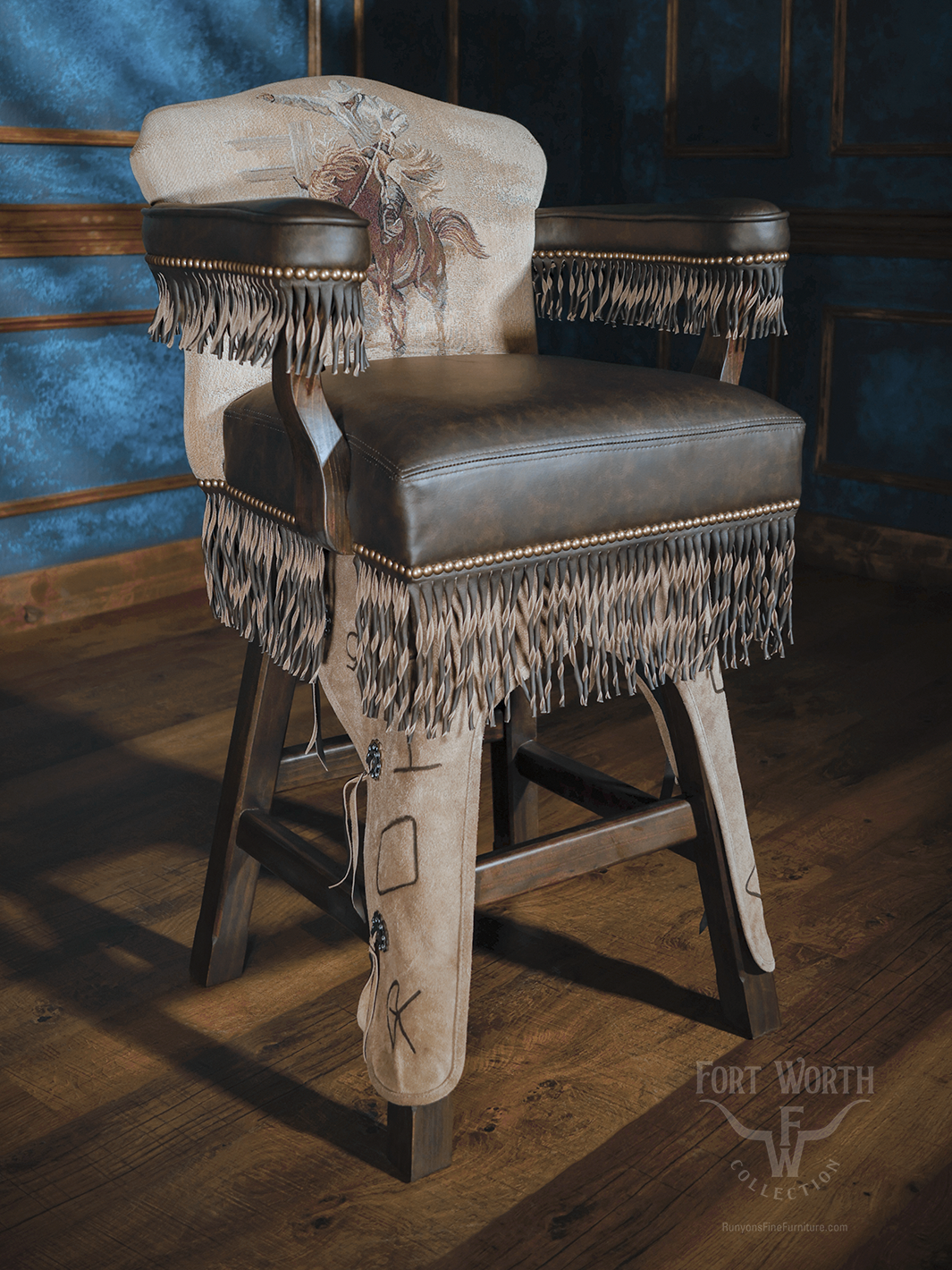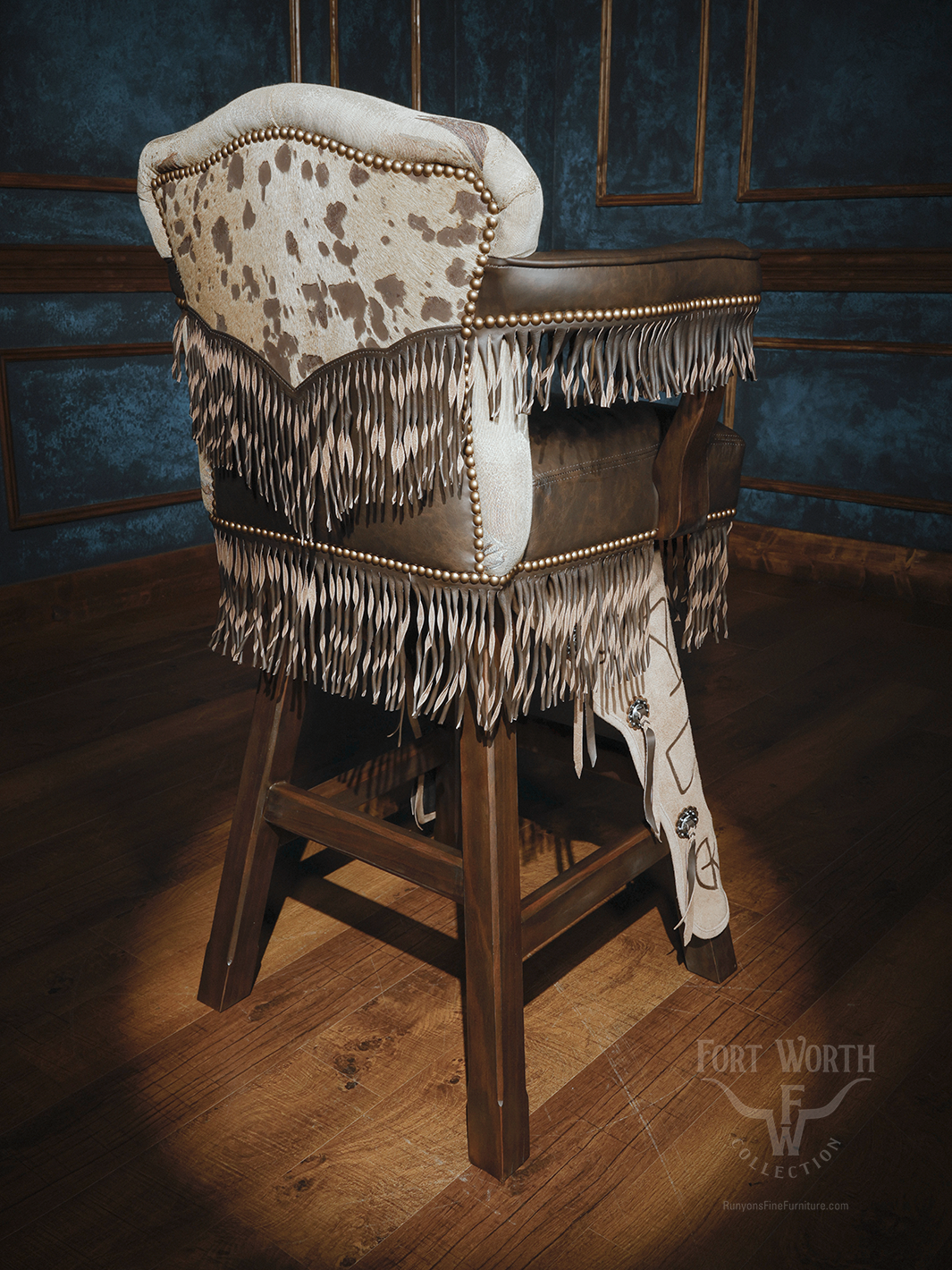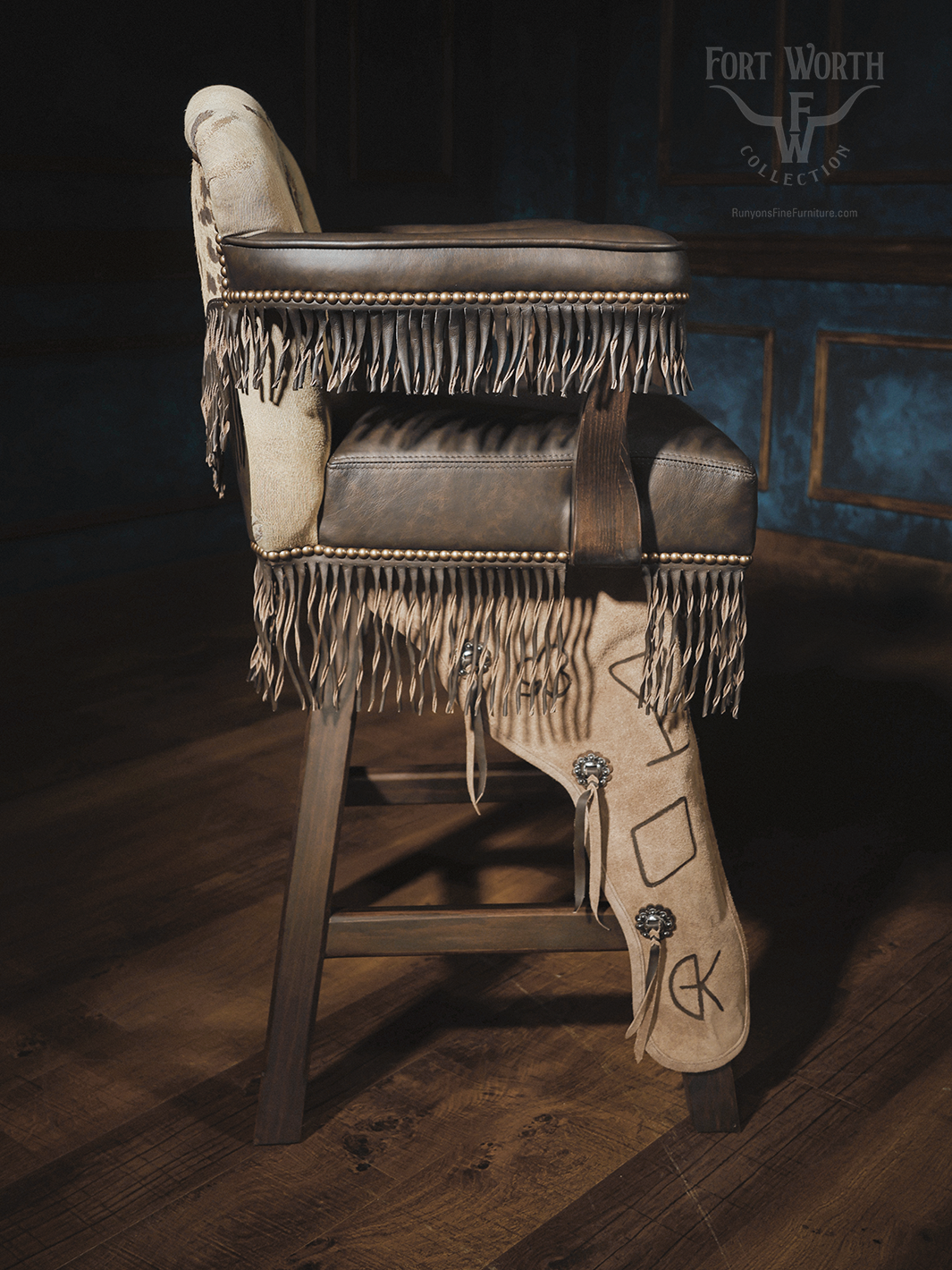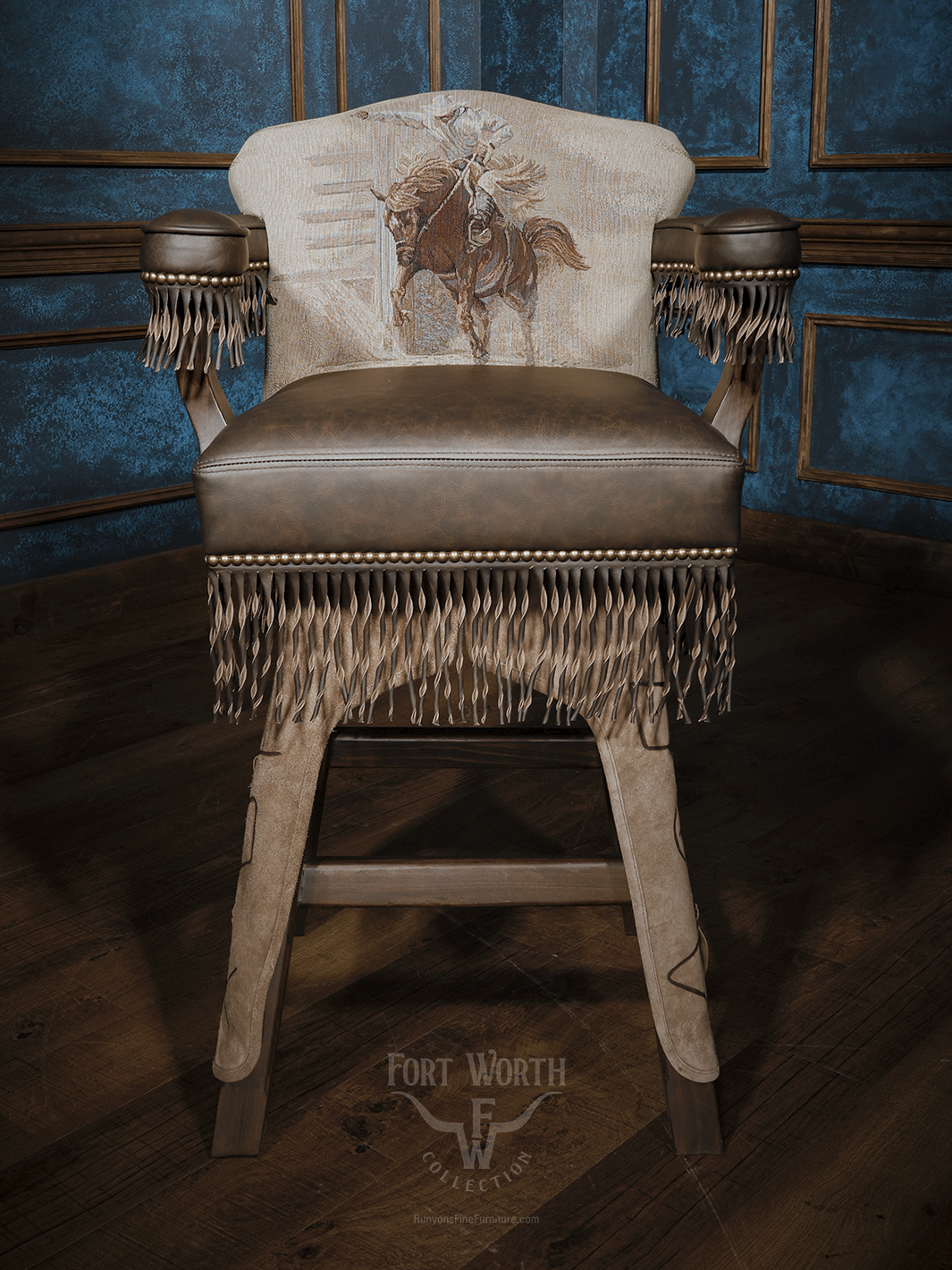 Bronco Buster Western Bar Stool
If rodeo is part of your life, then this handcrafted bar stool is perfect for you. Bring the atmosphere, excitement, and the rich family traditions of the American rodeo into your home with this Western inspired custom bar stool.
360 Degree Swivel
100% Top Grain Leather
Alderwood Frame
Chestnut Finish
Nail Heads
Overall Bar Stool Dimensions:  43" H x 26" W x 22" D
Seat Height: 30"
Top of Arm Height: 40"
Overall Counter Stool Dimensions: 38" H x 26" W x 22" D
Seat Height: 25"
Top of Arm Height: 35"
The inside seat back of the bar stool is upholstered in fine fabric with a design of a cowboy on a bucking bronc, and the reverse seat back is upholstered in genuine patterned cowhide with full grain leather fringe in a "V" pattern. The seat and the armrest are upholstered in natural full grain leather, and full grain leather fringe decorates the armrest and also the entire base of the bar stool seat. All upholstery and fringe is carefully hand tacked to the wood base by our skilled craftsmen. Durable as well as beautiful, the bar stool is made of the best wood available. The entire bar stool rest on splayed solid wood legs joined by a midway box stretcher. It swivels 180° and is 100% customizable.
This natural full grain leather tells the animals story with the displacement of the branding, scars, and markings found on the hide. These characteristics are not defects but rather a testament of genuineness, as no hide is ever the exact same. These imperfections are what makes this leather unique.

LEATHER CLASSIFICATION: After the leather has been aniline colored, a light protective coating is put to the top of the hide, which may contain some additional pigmentation, to provide a uniform color. Some flaws will be hidden by the colored coating, resulting in a more uniform surface texture. After that, either by hand or by machine, further finishes can be added to the leather (e.g. antique or exotic leather optics). Furthermore, semi aniline leather retains the inherent characteristics of the leather while also providing a thin protective layer that makes it more stain and wear resistant. Semi-aniline leathers are meant to withstand scratching and scuffing while also maintaining their beauty over time. This coating's sheen can be altered to produce a matte or glossy look.

LEATHER CARE: Semi-aniline leathers require relatively minimal maintenance, requiring only a light dusting with a clean cloth on a regular basis. On semi-aniline leather, never use oils, saddle soaps, harsh cleansers, or cleaners containing abrasives. You may want to wipe the leather with a clean, moist cloth to remove accumulated soil every now and then, then let it air dry. If a spill occurs, blot it up promptly with a clean, dry, absorbent towel to avoid lasting staining.
AVOID using general-purpose leather cleaners, homemade concoctions, and household cleansers. If a spill occurs, gently blot the area with an absorbent, sterile, dry cloth. Spills and soiling should be removed immediately to avoid lasting discoloration on pure aniline leathers due to its lack of having a protective finish. To assist minimize fading, avoid positioning furniture directly in front of the sun.
NOTICE: Pricing may vary when customizing.
*White Glove/Blanket Wrapped Delivery Available.