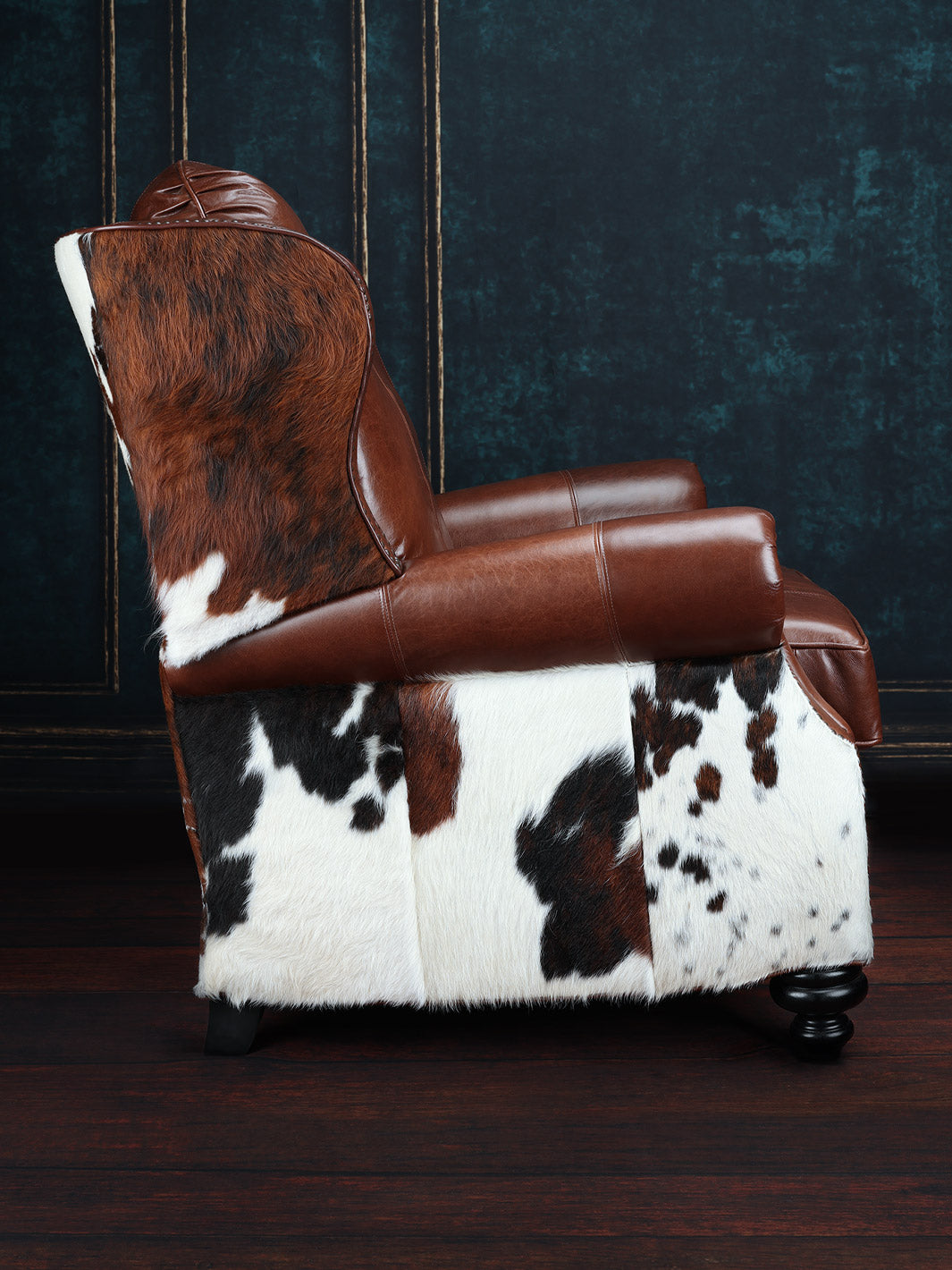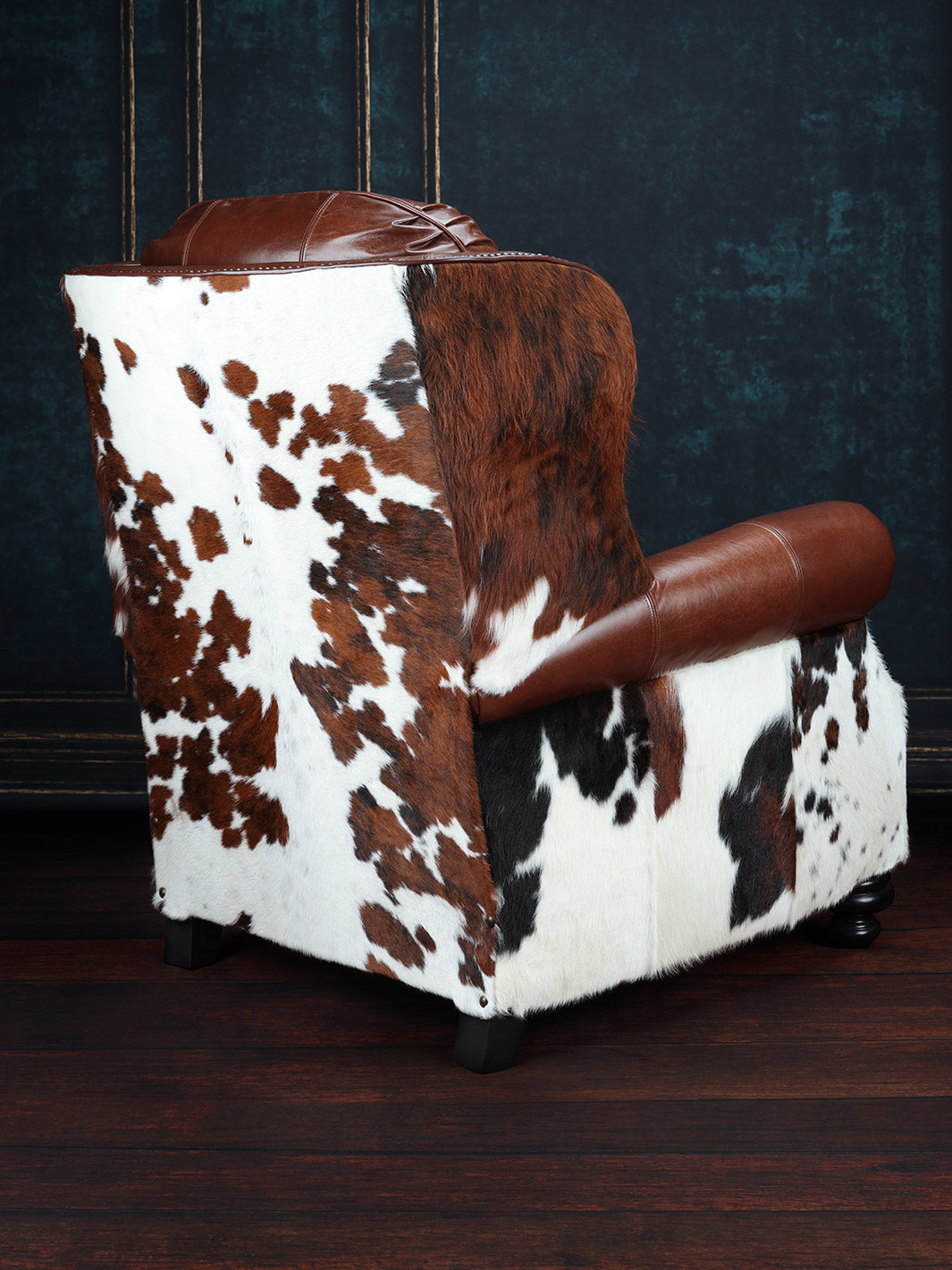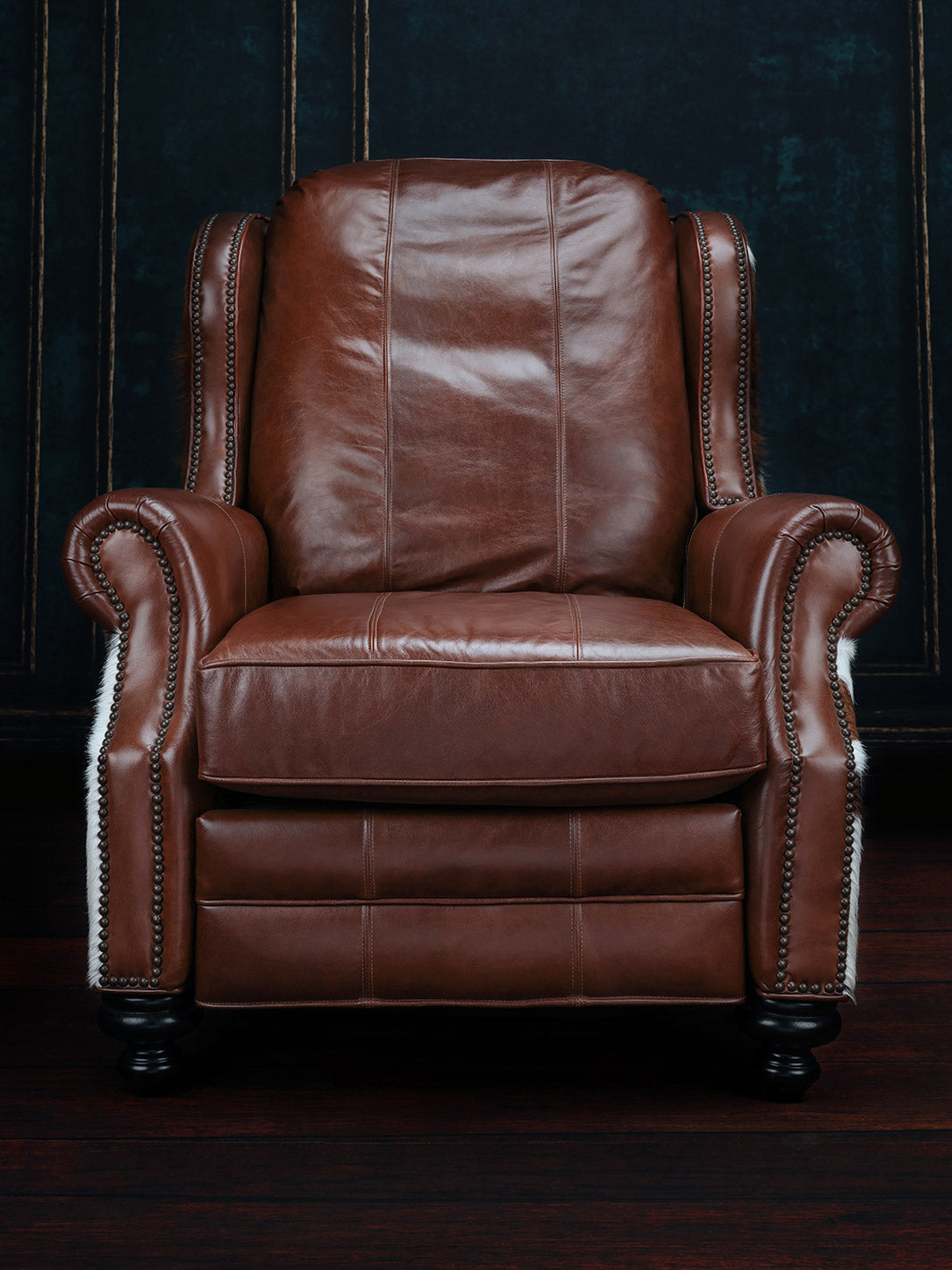 Bushwacker Leather & Cowhide Recliner
The Bushwhacker Leather & Cowhide Recliner is a statement chair that stands out majestically no matter where you place it. Decadent through and through, this rich, chestnut-hued recliner is a treat to the eyes and a dream to relax in.
*Tri Color Cowhide
*Sierra Chestnut - 100% Top Grain
*Nailheads
*Customization Available

Overall Dimensions
45" H x 39" W x 40" D
Arm Height: 27"
Seat Dimensions: 20" H x 23" W x 20" D
Semi-Attached Back
Overall Layout: 70"
With a vision of building the finest custom pieces to reflect our nation's western heritage, the artisans incorporate the elements of wood and leather to create high quality furniture art. Handcrafted from the carving, sanding, and hardwood frame assembly, to spring construction, cutting of leather, hand upholstery and hand finish trims. Finished with thick layers of foam to maximize your sitting comfort. Styles range from traditional to complementary, with customized dimensions. A large variety of leathers, including embossed & stamped, and a large hair on hide variety. Made in Texas using 100% top grain leather!

AVAILABLE TO BE CUSTOM ORDERED WITH A LARGE SELECTION OF DIFFERENT LEATHERS & HIDES.
Leather
Sierra leather It is often produced by using aniline dyes that have been saturated with natural oils and waxes and is recognized for its quality, style, & durability. This leather is frequently described as having a "dark, almost "greasy" look and feel" because to its high oil and fat content; yet, despite how it sounds, this is beautiful and robust. Over time, absorbing scratches and scrapes that add character and developing a slight patina.

Sierra Characteristics:
Type: Aniline Leather
Effect: Wax & Oil/Slight Patina Over Time
Color: Chestnut Brown
Feel: Soft ; Semi-Protected
Sheen Level: Medium Matte Gloss

Hair on Hide:
Cowhide that has retained its natural coloring and hair. Brown/white spotted or speckled, black/white spotted or speckled, tan/white spotted or speckled, and brindle light or dark exotic are just a few examples of the many combinations that can be customized onto product.. There is little control over the final hue, making each hide unique.
Periodically dust or vacuum leather furniture. Wipe spills immediately with dampened soft white cloth. Never use soaps or cleaning agents of any type, wipe only with dampened cloth.
NOTICE: Pricing may vary when customizing.