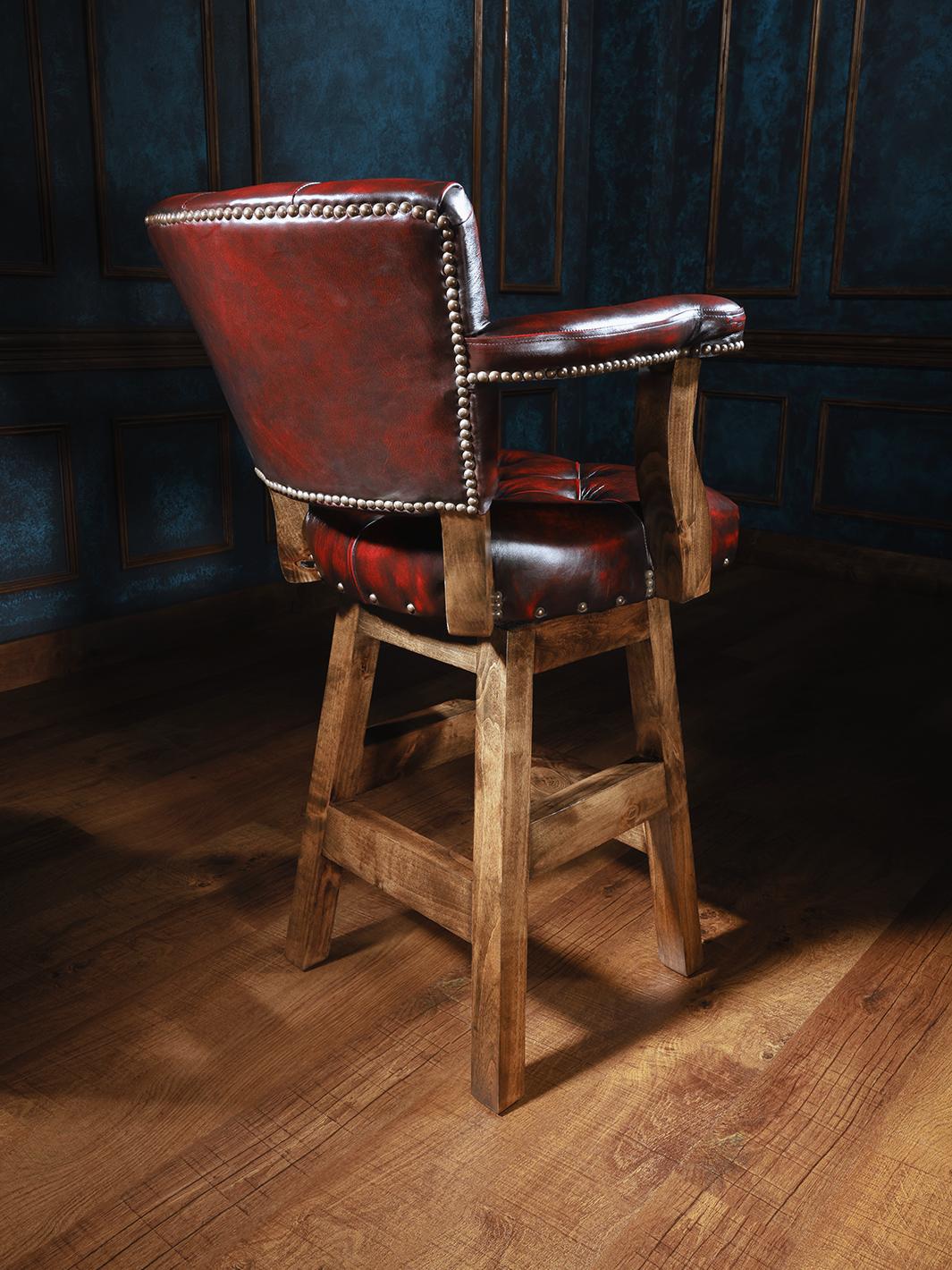 Hacienda Chisum Tufted Leather Bar Stool
One of our best-selling bar stool designs, the Tufted Hacienda Chisum Leather Bar Stool is a truly magnificent piece of handcrafted furniture that is both enchantingly beautiful and unmatched in comfort.
* Puglia Red & Distressed Black Leather
* 360 Degree Swivel
* Alderwood Frame
* Chestnut Finish
* Nail Heads
*Customization Available

Overall Bar Stool Dimensions:
43" H x 26" W x 22" D
Seat Height: 30"
Seat Width: 20"
Seat Depth: 19"
Top of Arm Height: 38"

Overall Counter Stool Dimensions:
38" H x 26" W x 22" D
Seat Height: 24"
Seat Width: 20"
Seat Depth: 19"
Top of Arm Height: 34"
The Hacienda Ranch style bar stool features 100% top grain leather, which is known for its luxurious texture, and thick layers of foam to maximize your sitting comfort. The upholstered support extends to the armrest, ensuring that you and your companions are nestled in pure luxury every time you choose to sit at the bar. The ball-bearing swivel system also ensures a smooth 360° movement and the sturdy wooden foot-stand gives you a fatigue-free seating experience. Handcrafted in the state of Texas!

AVAILABLE TO BE CUSTOM ORDERED WITH A LARGE SELECTION OF DIFFERENT LEATHERS & HIDES.
Leather Puglia is a heavy-weight, full-grain leather that is fully natural. Only the crust color and multiple passes of very concentrated pure aniline dyes are used to produce the leather's red hue. The final spray finish uses anilines of a slightly darker color, giving the leather's surface a faint distressed two-tone appearance. Puglia exhibits all of the inherent qualities of high quality, including small color variations, changes in the grain, and flaws in the hide. After the leather has been surface-coated with a natural feel coat for a delicate, silky touch to heighten your senses, it is then sealed with a mid-sheen. Pulgia Characteristics: Type: Aniline Leather Effect: Two Toned Effect/Patina Over Time Color: Red with Black Undertone Feel: Soft/Silky; Protected Sheen Level: High Gloss
AVOID using general-purpose leather cleaners, homemade concoctions, and household cleansers. If a spill occurs, gently blot the area with an absorbent, sterile, dry cloth. Spills and soiling should be removed immediately to avoid lasting discoloration on pure aniline leathers due to its lack of  having a protective finish. To assist minimize fading, avoid positioning furniture directly in front of the sun.
NOTICE: Pricing may vary when customizing.
*White Glove/Blanket Wrapped Delivery Available.