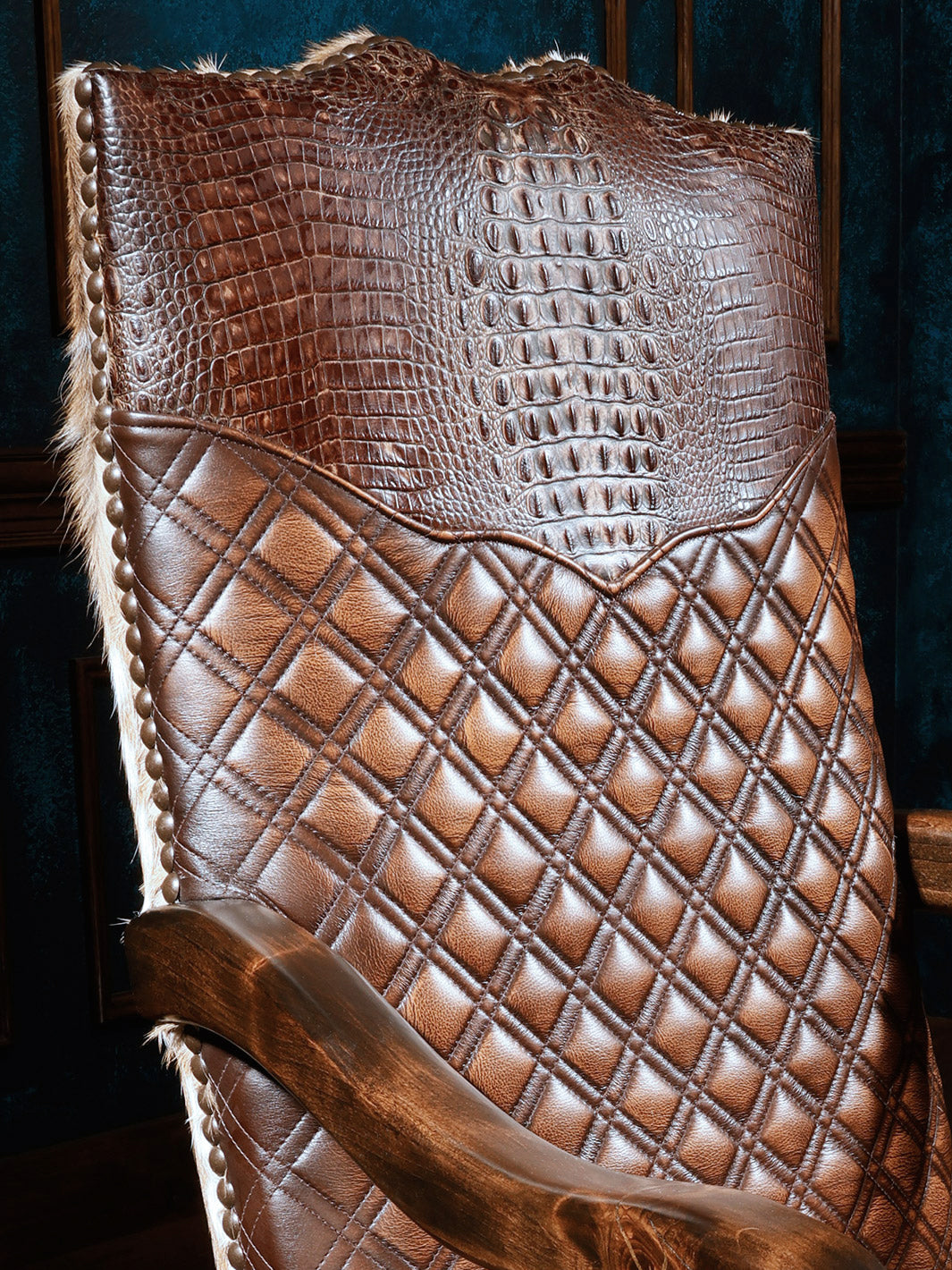 Hollywood Cowboy Desk Chair
It's all about the details. From afar, the beautiful Axis hide back and Crocodile Brown embossed yoke accenting captures attention, and up close the Diamond Quilted Puglia top grade leather shows off its intricate natural beauty and soft texture.
8-12 week production time.
*Diamond Pattern Puglia Brown seat & lower back
*Crocodile Brown accented Yoke
*Axis Outside Back
*Alder wood Frame: Chestnut Finish
*Nailheads
*Adjustable seat
*Customization Available

Overall Dimensions: 27" W x 26" D
Seat Height: Adjusts from 18" to 22"
The Hollywood Cowboy Desk Chair is the one-of-a-kind vintage addition to your collection that you have been yearning for. It is made of silky Puglia Brown Diamond Stitch leather and Croc Brown accented yoke. It is a stand-alone design that demands the focus of everyone entering the space. The chair has a delightfully unique spin while yet paying homage to the timeless style of decades past. This piece stands out due to the strong alder wood frame with a chestnut finish and exquisite texture stitched diamond-shaped pattern. Including thick layers of foam to maximize your sitting comfort. Handcrafted in Texas using 100% top grain leather. AVAILABLE TO BE CUSTOM ORDERED WITH A LARGE SELECTION OF DIFFERENT LEATHERS & HIDES.

Variations in grain, texture, color, and hue distinguish 100% top-grain cowhide leather. Expected healed scars and markings only adds to the skins' inherent beauty. These differences are characteristic of genuine 100% top grain cowhide leather and should not be perceived as flaws.
Leather
Puglia Brown leather background and texture stitched with a diamond-shaped pattern.

Axis Hair on Hide:
Deer hide with all of the hair still present. Each hide has a characteristic dark line running down the middle, or backbone, with two adjacent, mirror-image white spots. 
General-purpose leather cleaners, homemade concoctions, and household cleansers should all be avoided. Instead, choose a product designed for unfinished leathers. To assist minimize fading, avoid positioning furniture directly in front of the sun. Spills and soiling should be removed immediately to avoid lasting discoloration on pure aniline leathers due to its lack of having a protective finish. If a spill occurs, blot it up as soon as possible with a clean, dry, absorbent cloth.
NOTICE: Pricing may vary when customizing.
*White Glove/Blanket Wrapped Delivery Available.