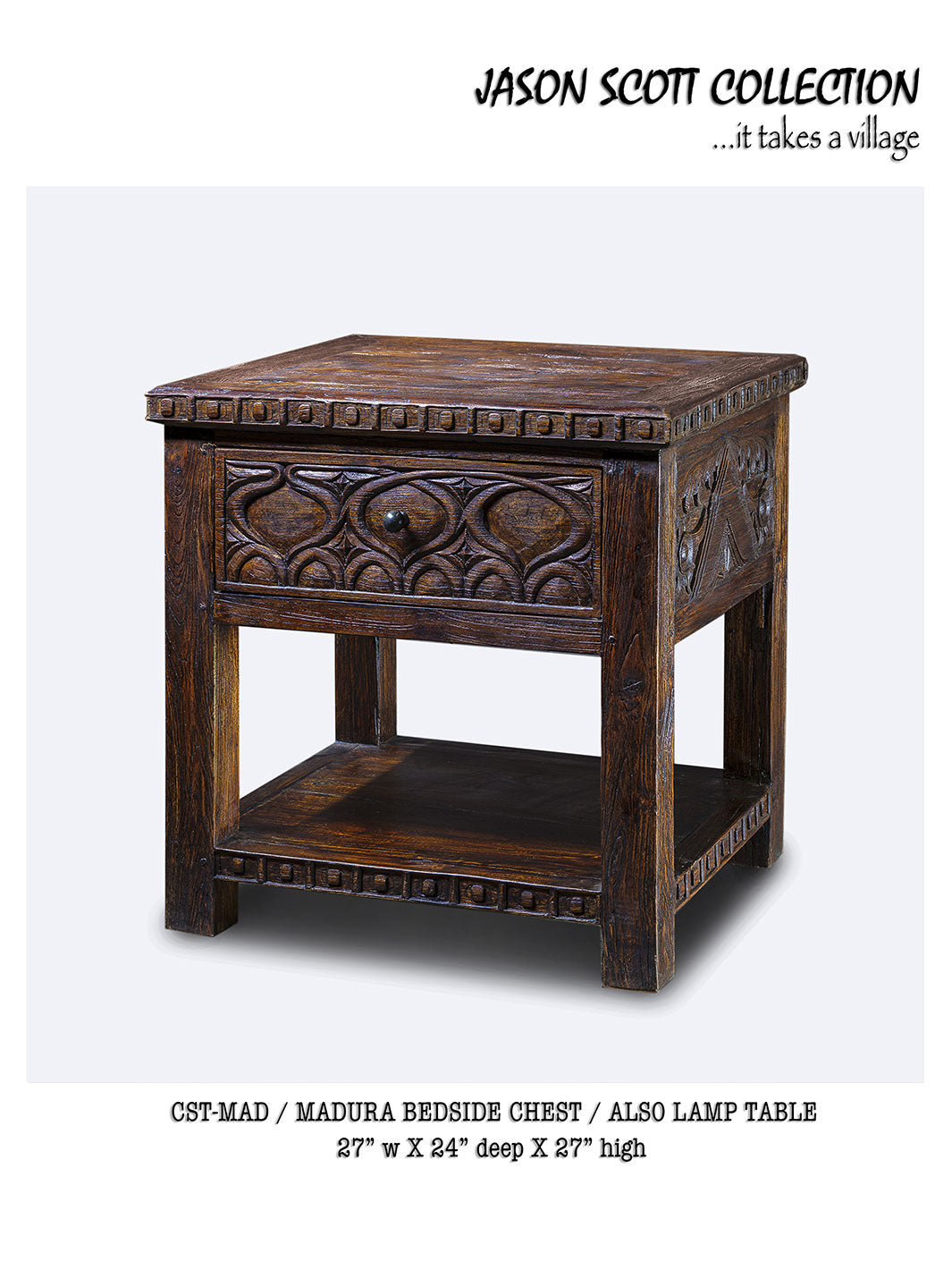 Jason Scott Madura Bedside Chest
CST-MAD
Elevate your bedroom with the elegant Jason Scott Madura Bedside Chest. With its sleek design and convenient storage, it's the perfect blend of style and functionality for your bedside essentials.
Jason Scott's Journey to Java:
Jason Scott's voyage to his unique craftsmanship began thousands of miles away from his homeland. His travels led him to the Indonesian island of Java, a place renowned for its rich culture, history, and natural resources. It was here that he uncovered antique treasures that would shape his future.

Discovery of Teak Wood:
Java, with its lush landscapes, is home to teak forests. Teak wood, known for its durability and beauty, has been used for centuries in various constructions, from homes to ships. During his time in Java, Jason was introduced to the concept of reclaimed teak wood. This involves salvaging teak from abandoned structures, such as old buildings and bridges, and giving it a new life.

The Birth of a Passion:
Captivated by the history and character embedded in reclaimed teak, Jason saw potential beyond its weathered surface. He recognized that each piece of wood carried stories of the past, and when crafted into furniture, it could become a blend of art, history, and functionality.

Building Relationships with Local Craftsmen:
To bring his vision to life, Jason immersed himself in the local community. He forged relationships with Javanese craftsmen, learning from their traditional techniques and sharing his contemporary design ideas. This collaboration resulted in a unique fusion of old-world craftsmanship and modern aesthetics.

The Creation of the Jason Scott Collection:
With a stockpile of reclaimed teak and a team of skilled artisans, Jason began transforming the salvaged wood into exquisite furniture pieces. This marked the birth of the "Jason Scott Collection." Each piece, handcrafted with precision and care, showcased the beauty of reclaimed teak, combined with architectural details and design elements inspired by Jason's travels.

A Legacy in Reclaimed Teak:
Today, the Jason Scott Collection stands as a testament to sustainable design and craftsmanship. By repurposing teak from abandoned structures, Jason not only gives the wood a second life but also preserves a piece of Javanese history in each furniture item.


Jason Scott's journey from discovering reclaimed teak in Java to establishing a renowned furniture collection is a story of passion, innovation, and a deep appreciation for the art of craftsmanship.
Reclaimed Teak Wood: Each piece is crafted from sustainably sourced reclaimed teak wood, ensuring eco-friendliness and a rich history embedded in every item.
Unique Ten-Step Procedure: The craftsmanship process involves a meticulous ten-step procedure, from wire brushing to state-of-the-art kiln drying, guaranteeing durability and longevity.
Old-World Artistry: The designs reflect a blend of traditional techniques and modern aesthetics, resulting in timeless pieces that suit various interiors.
Architectural Nuances: Many products showcase intricate architectural details, adding depth and character to each piece.
Handcrafted Excellence: Every item is handcrafted by skilled artisans, ensuring that each product is unique and of the highest quality.
Sustainable and Eco-Friendly: The use of reclaimed wood not only gives the furniture a distinctive look but also promotes sustainability and reduces environmental impact.
Versatile Designs: The collection offers a range of products suitable for various spaces, from cozy homes to elegant commercial settings.
Durability: The combination of quality materials and expert craftsmanship ensures that each piece is built to last, offering great value for money.
Authenticity: With the Jason Scott signature, customers are assured of genuine products that resonate with the brand's commitment to excellence and authenticity.
Legacy of Passion: Behind every product lies Jason Scott's dedication and passion for creating furniture that tells a story, making each purchase a meaningful investment.
*1 Drawer
*Customization Available

Dimensions
27"W x 24"D x 27"H
Occasionally, wash your teak furniture with a diluted solution of dishwashing soap and warm water. Let the solution sit for five minutes, then wipe the wood surface with a soft cloth or hose it down. Ensure the furniture is dried completely after cleaning.
*White Glove/Blanket Wrapped Delivery Available.