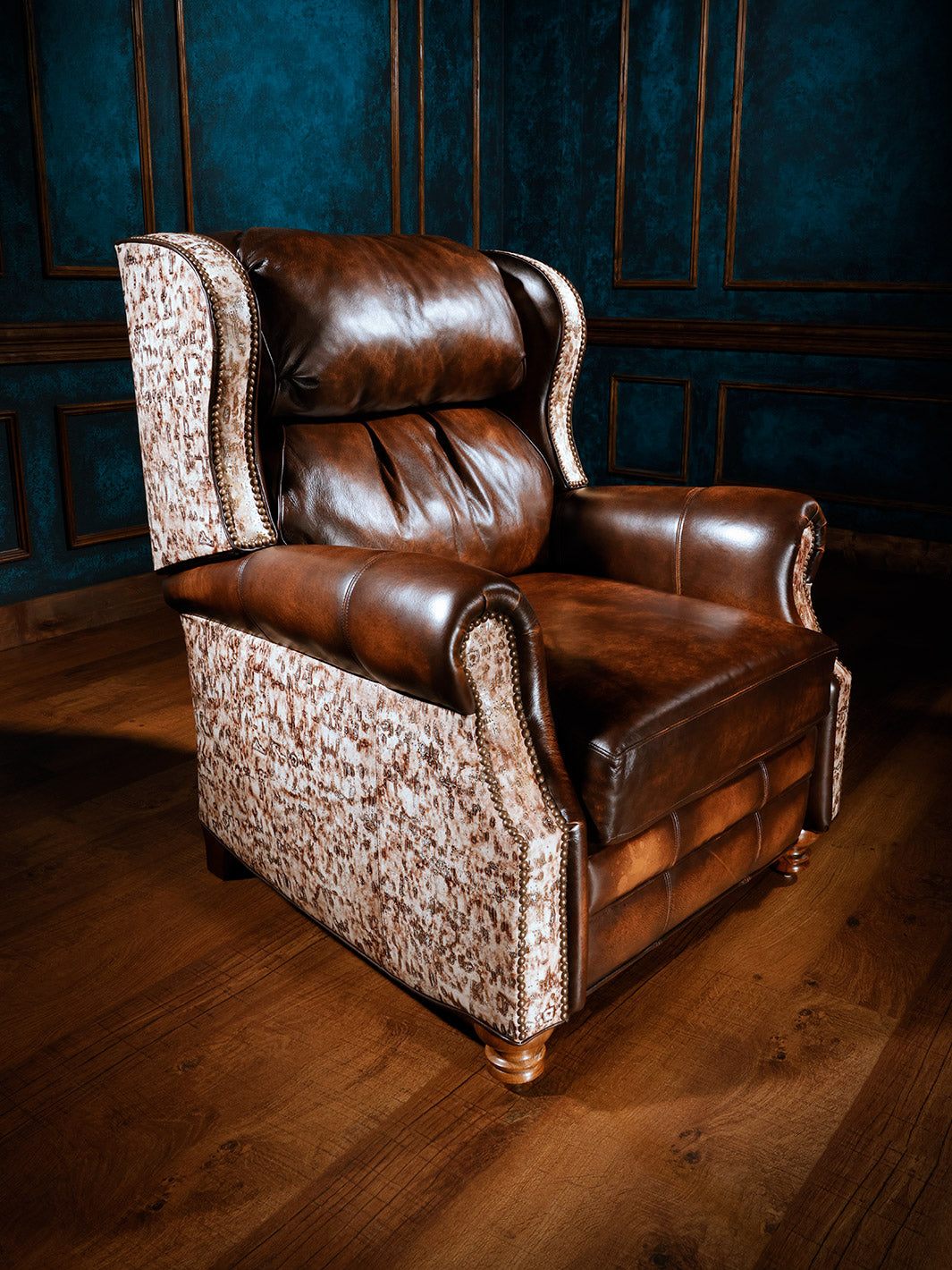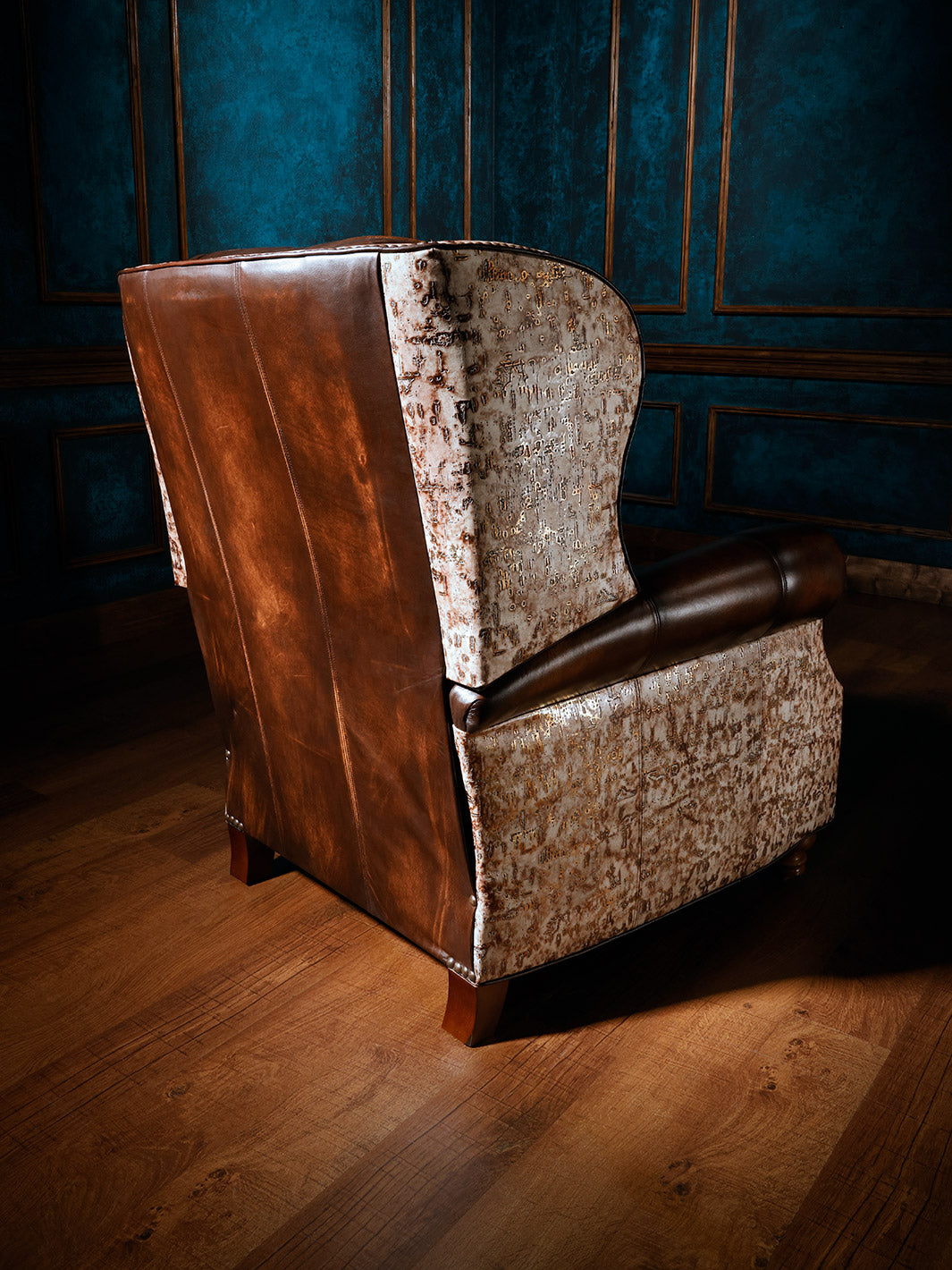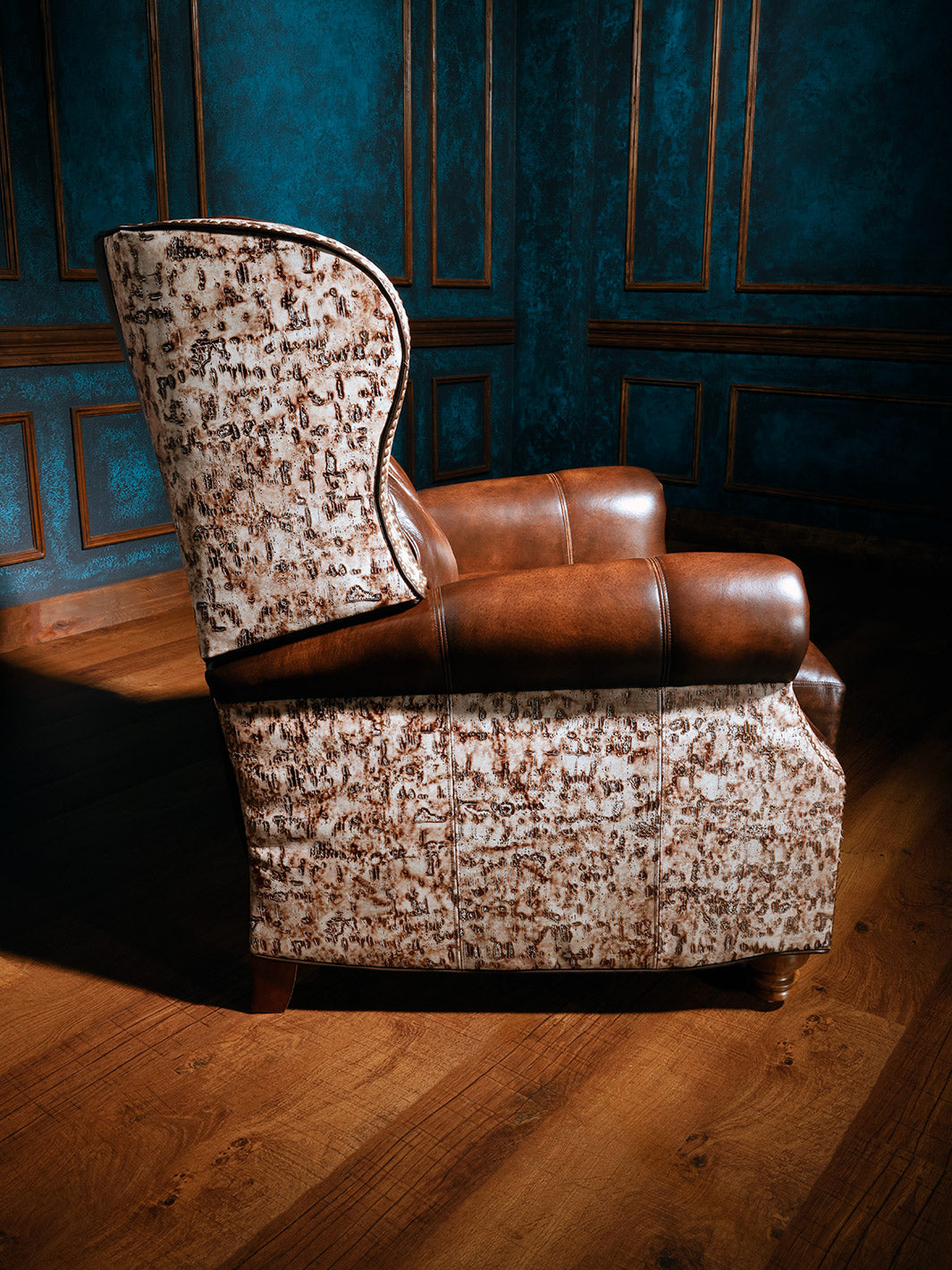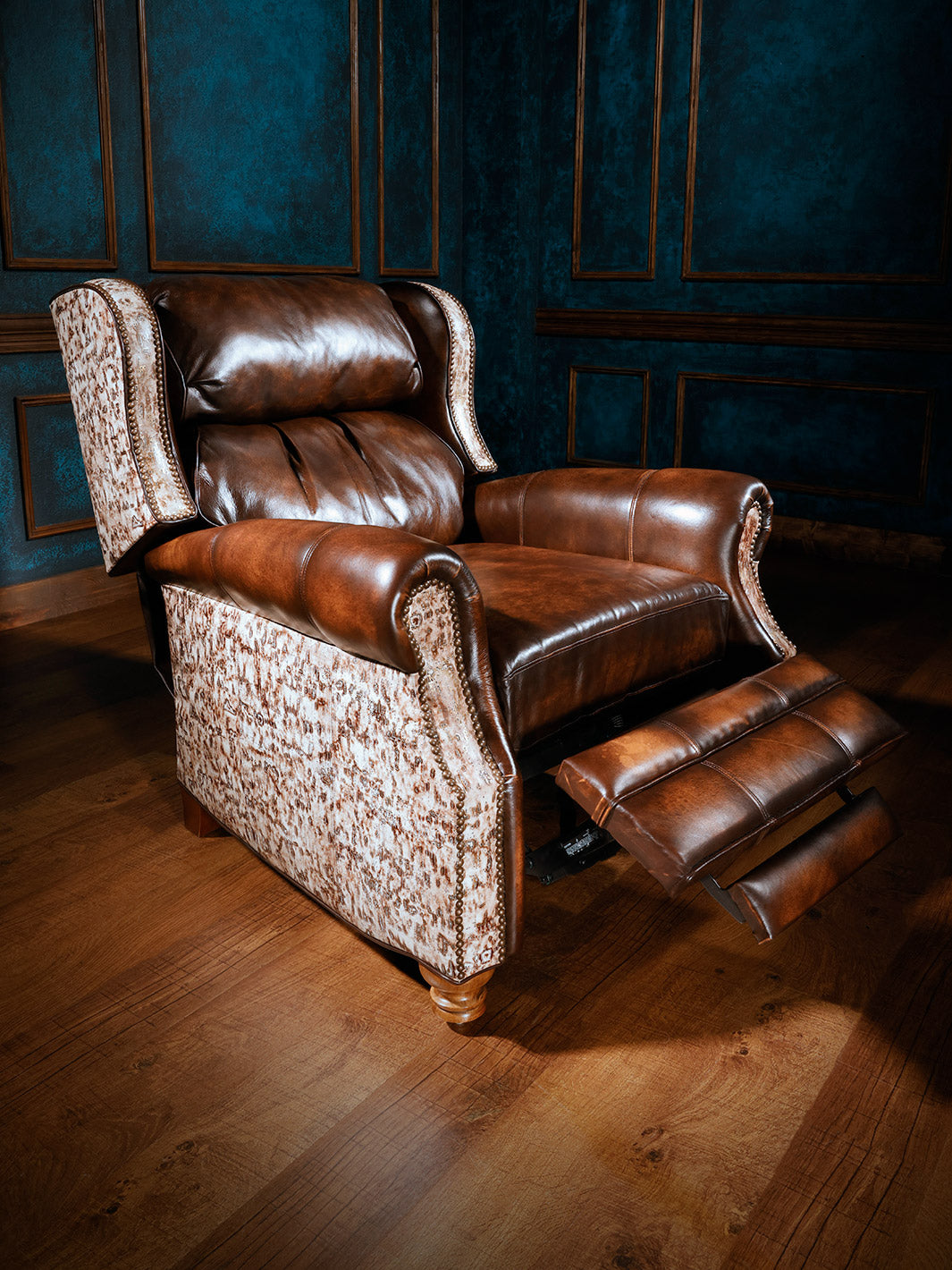 Lucky Strike Western Leather Recliner
Regular price
$5,000.00
Sale price
$4,788.00
/
Our Lucky Strike Western Leather Recliner is highlighted by its abstract smudge patterns and embossed textures that make it quite the statement piece.
* Puglia Brown Leather - Wipe Off
* Driftwood Cloudy Gold Embossed Leather
*Alder wood Frame: Chestnut Finish
*Nailheads
*Customization Available

Overall Dimensions:
45" H x 39" W x 40" D
Arm Height: 27"
Seat Dimensions: 20" H x 23" W x 20" D
Semi-Attached Back
Overall Layout: 70"
The use of dark Puglia Brown leather complements the distressed patterns very well. The sides of the backrest and armrest rails are lined with the distinct Driftwood Cloudy Gold Embossed leather, which is handworked to give it its luxurious finish. High-density foams are used to fill the recliner's padded rests, sides, and cushion. This is what makes you feel like you're on a cushy cloud every time you take a seat. Handcrafted in Texas using 100% top grain leather. AVAILABLE TO BE CUSTOM ORDERED WITH A LARGE SELECTION OF DIFFERENT LEATHERS & HIDES.

Variations in grain, texture, color, and hue distinguish 100% top-grain cowhide leather. Expected healed scars and markings only adds to the skins' inherent beauty. These differences are characteristic of genuine 100% top grain cowhide leather and should not be perceived as flaws.
Leather
Puglia is a heavy-weight, full-grain Italian leather that is fully natural. Only the crust color and multiple passes of very concentrated pure aniline dyes are used to produce the leather's brown hue. The final spray finish uses anilines of a slightly darker color, giving the leather's surface a faint distressed two-tone appearance. In other words, using the underlying color palette, the leather is "wiped-off" to create a contrast of hues. Puglia exhibits all of the inherent qualities of high quality, including small color variations, changes in the grain, and flaws in the hide. After the leather has been surface-coated with a natural feel coat for a delicate, silky touch to heighten your senses, it is then sealed with a mid-sheen.

Pulgia Characteristics:
Type: Aniline Leather
Effect: Two Toned Effect/Patina Over Time
Color: Brown
Feel: Soft/Silky; Protected
Sheen Level: High Gloss
AVOID using general-purpose leather cleaners, homemade concoctions, and household cleansers. If a spill occurs, gently blot the area with an absorbent, sterile, dry cloth. Spills and soiling should be removed immediately to avoid lasting discoloration on pure aniline leathers due to its lack of having a protective finish. To assist minimize fading, avoid positioning furniture directly in front of the sun. Click here to learn more.
NOTICE: Pricing may vary when customizing.