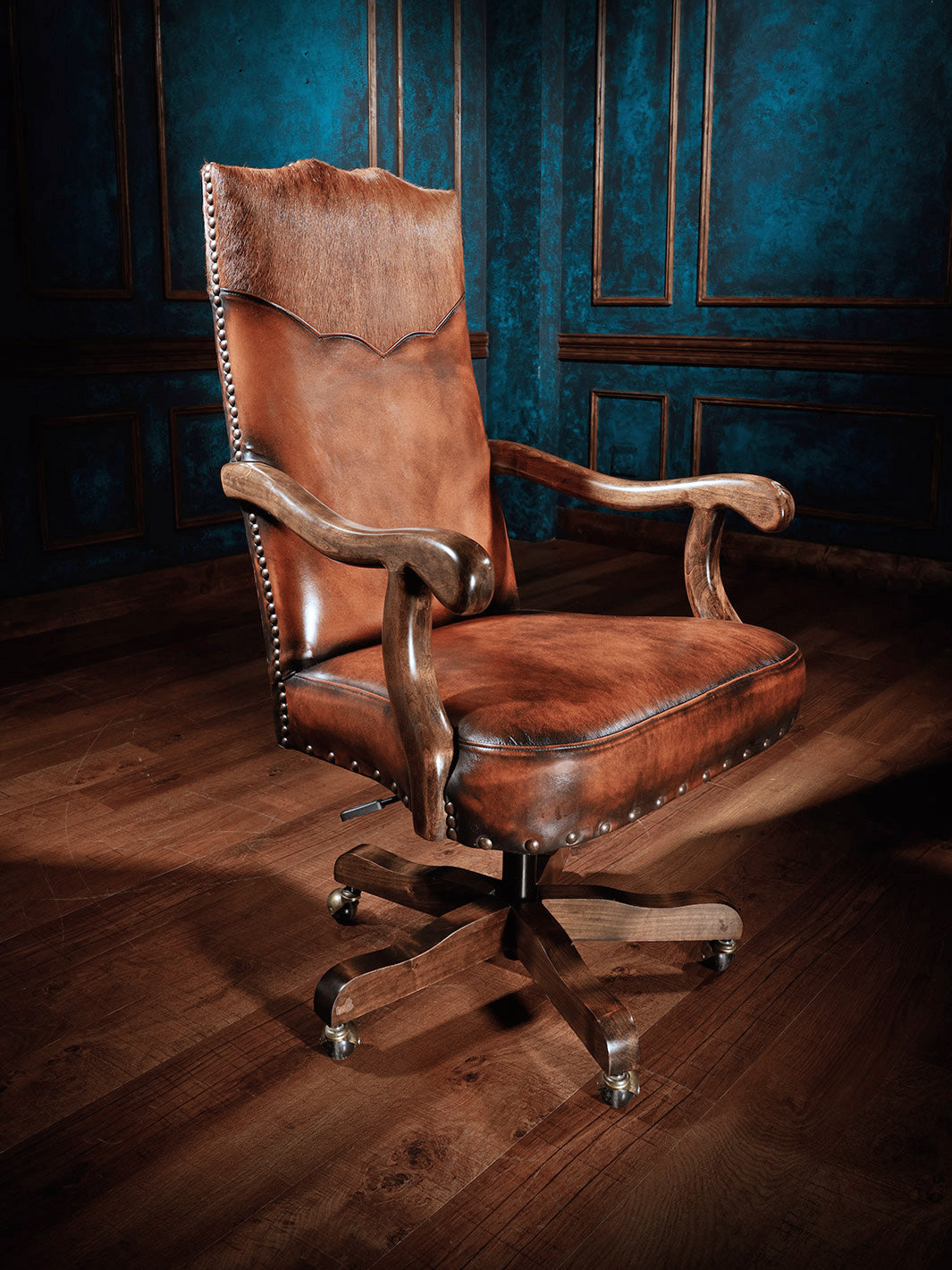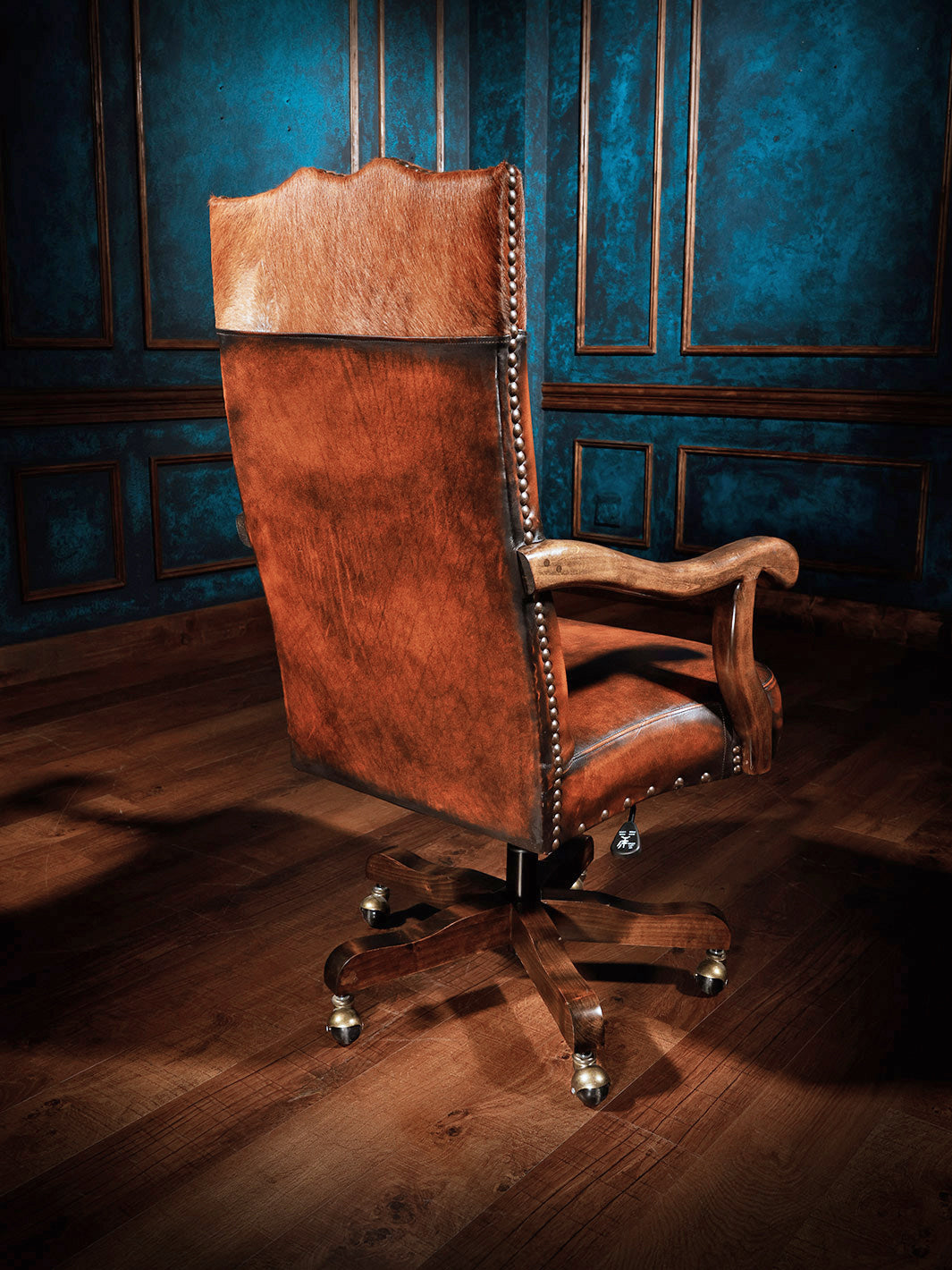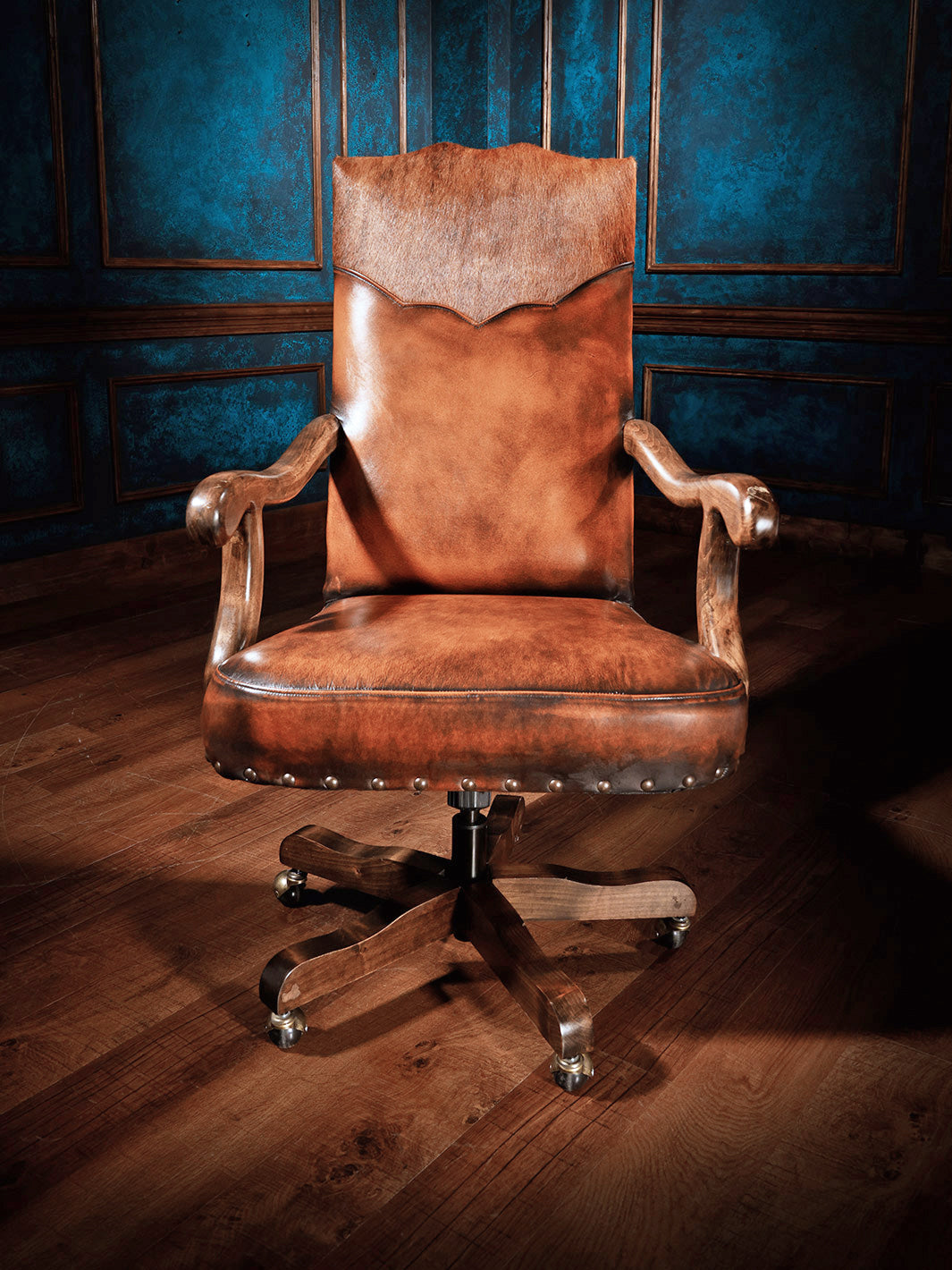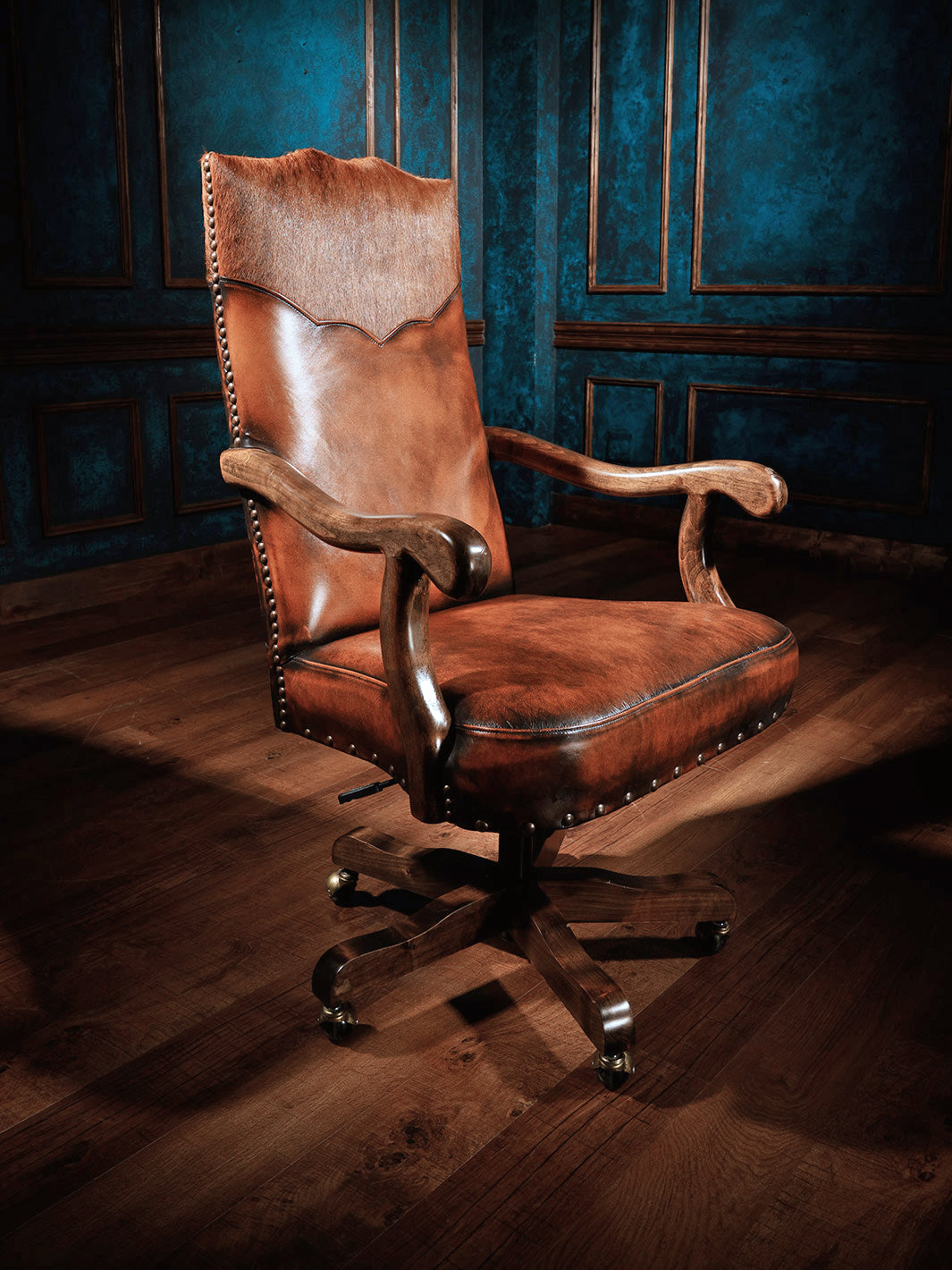 Sanderson Western Leather Desk Chair
When supported by top-notch materials, clean, uncomplicated lines speak volumes. This chair has a high country character thanks to the abundance of excellent hand-rubbed leather and the accent cowhide yoke. The Sanderson Leather & Cowhide Desk Chair is a great choice whether it's for you alone or the entire conference.
*Puglia Brown Wipe Off Leather
*Medium Brindle Yoke
*Alder wood Frame: Chestnut Finish
*Standard Nailheads
*Adjustable Seat
*Customization Available

Dimensions: 27" W x 26" D
Seat Height: Adjusts from 18" to 22"
The Sanderson Western Leather Desk Chair is the one-of-a-kind classic addition to your collection that you have been yearning for. It is made of soft to the touch Puglia Brown leather dark brindle accented yoke. The simplicity and elegancy derive from the warm, neutral undertones accented with the chestnut finished alder wood frame. The gentle textured, divine color depth & clarity combine with a soft hand to bestow a sophisticated appeal. Including an adjustable seat and thick layers of foam to maximize your sitting comfort. Handcrafted in Texas using 100% top grain leather. AVAILABLE TO BE CUSTOM ORDERED WITH A LARGE SELECTION OF DIFFERENT LEATHERS & HIDES.

VARIATIONS IN GRAIN, TEXTURE, COLOR, AND HUE DISTINGUISH 100% TOP-GRAIN COWHIDE LEATHER. EXPECTED HEALED SCARS AND MARKINGS ONLY ADDS TO THE SKINS' INHERENT BEAUTY. THESE DIFFERENCES ARE CHARACTERISTIC OF GENUINE 100% TOP GRAIN COWHIDE LEATHER AND SHOULD NOT BE PERCEIVED AS FLAWS.
Leather:
Puglia is a heavy-weight, full-grain Italian leather that is fully natural. Only the crust color and multiple passes of very concentrated pure aniline dyes are used to produce the leather's red hue. The final spray finish uses anilines of a slightly darker color, giving the leather's surface a faint distressed two-tone appearance. In other words, using the underlying color palette, the leather is "wiped-off" to create a contrast of hues. Puglia exhibits all of the inherent qualities of high quality, including small color variations, changes in the grain, and flaws in the hide. After the leather has been surface-coated with a natural feel coat for a delicate, silky touch to heighten your senses, it is then sealed with a mid-sheen.

Pulgia Characteristics:
Type: Aniline Leather
Effect: Two Toned Effect/Patina Over Time
Color: Brown Wipe Off
Feel: Soft/Silky; Protected
Sheen Level: High Gloss

Hair on Hide:
Cowhide that has retained its natural coloring and hair. Brown/white spotted or speckled, black/white spotted or speckled, tan/white spotted or speckled, and brindle light or dark exotic are just a few examples of the many combinations that can be customized onto product.. There is little control over the final hue, making each hide unique.

General-purpose leather cleaners, homemade concoctions, and household cleansers should all be avoided. Instead, choose a product designed for unfinished leathers. To assist minimize fading, avoid positioning furniture directly in front of the sun. Spills and soiling should be removed immediately to avoid lasting discoloration on pure aniline leathers due to its lack of having a protective finish. If a spill occurs, blot it up as soon as possible with a clean, dry, absorbent cloth.
NOTICE: Pricing may vary when customizing.
*White Glove/Blanket Wrapped Delivery Available.