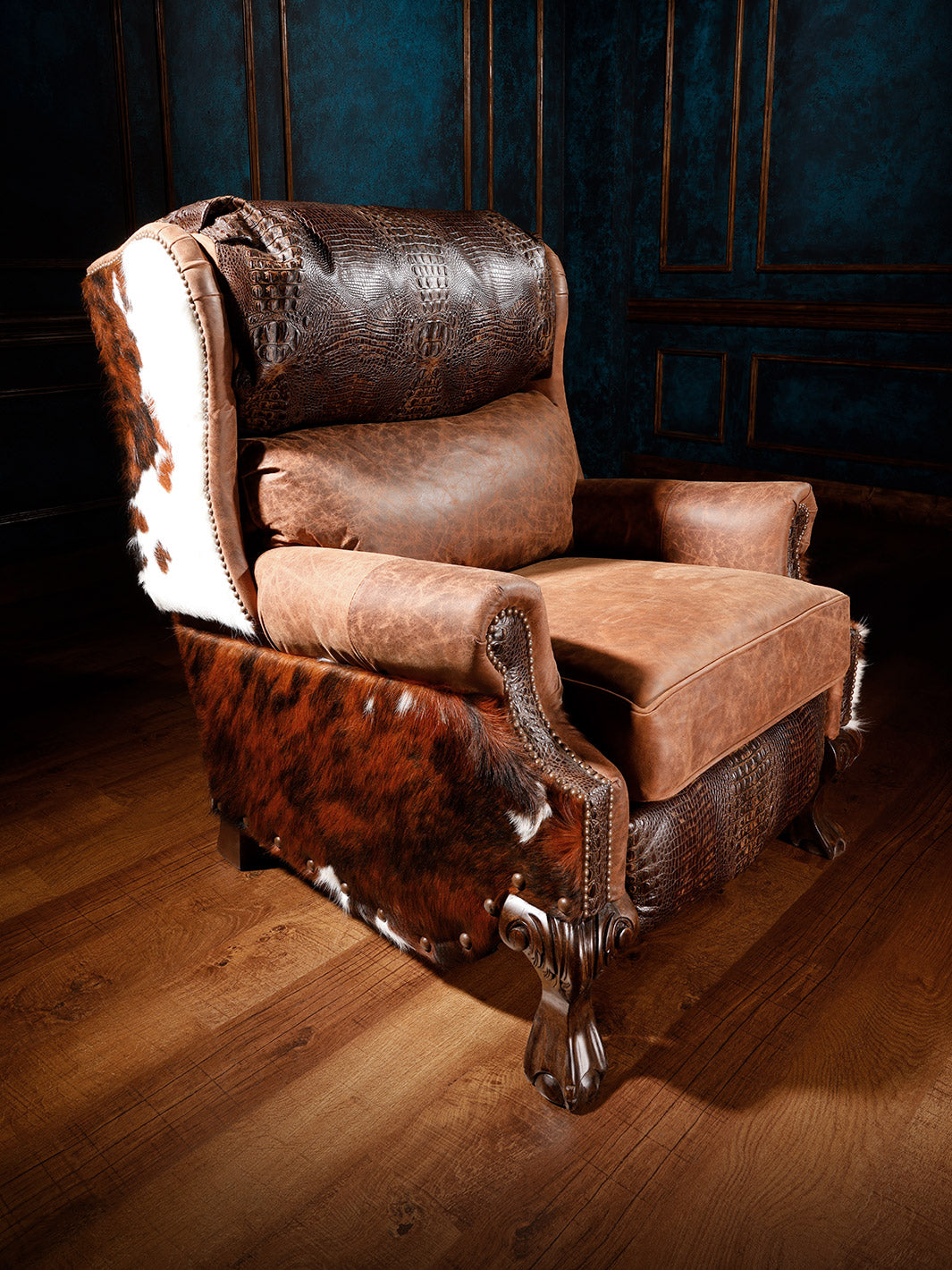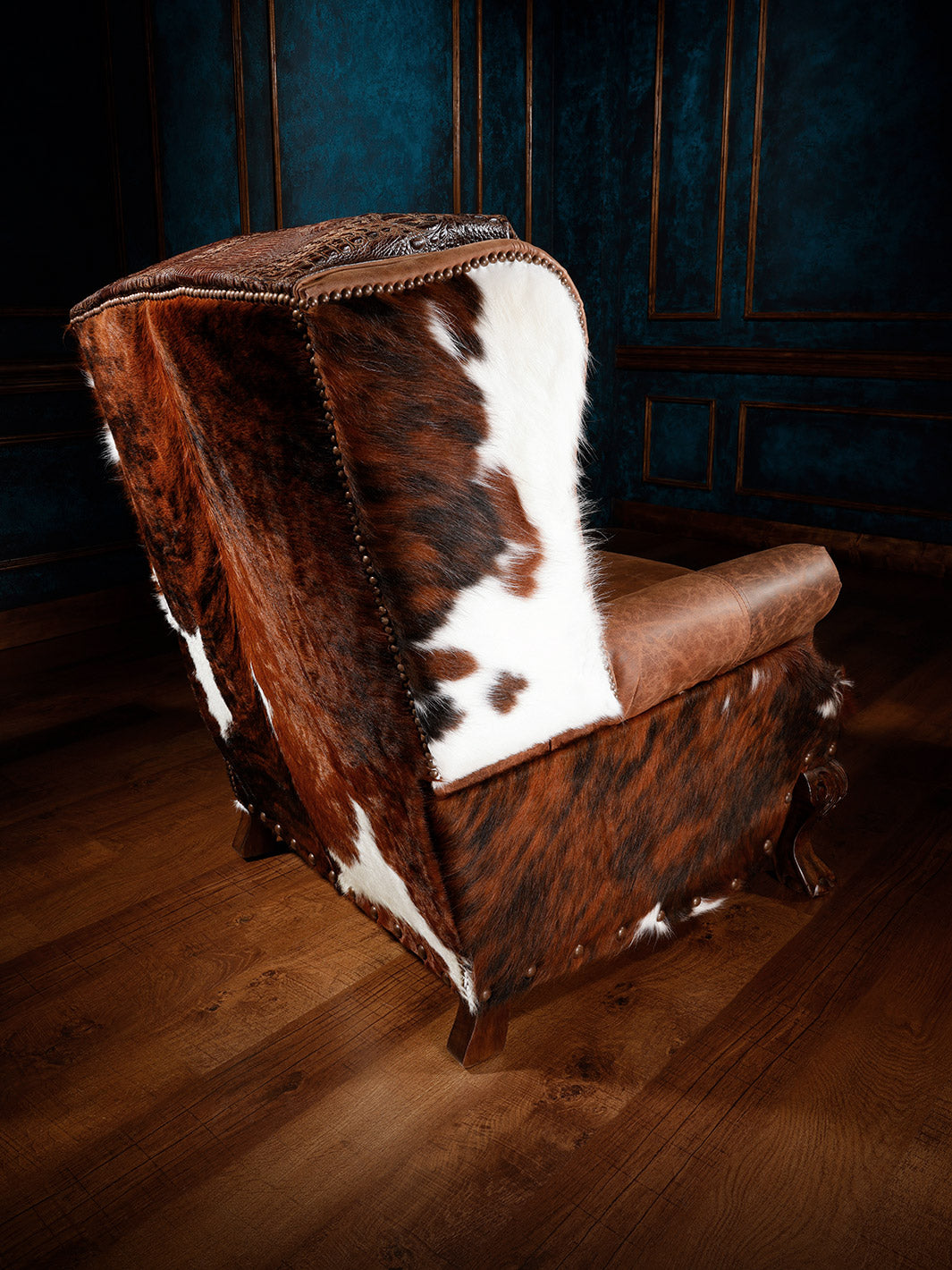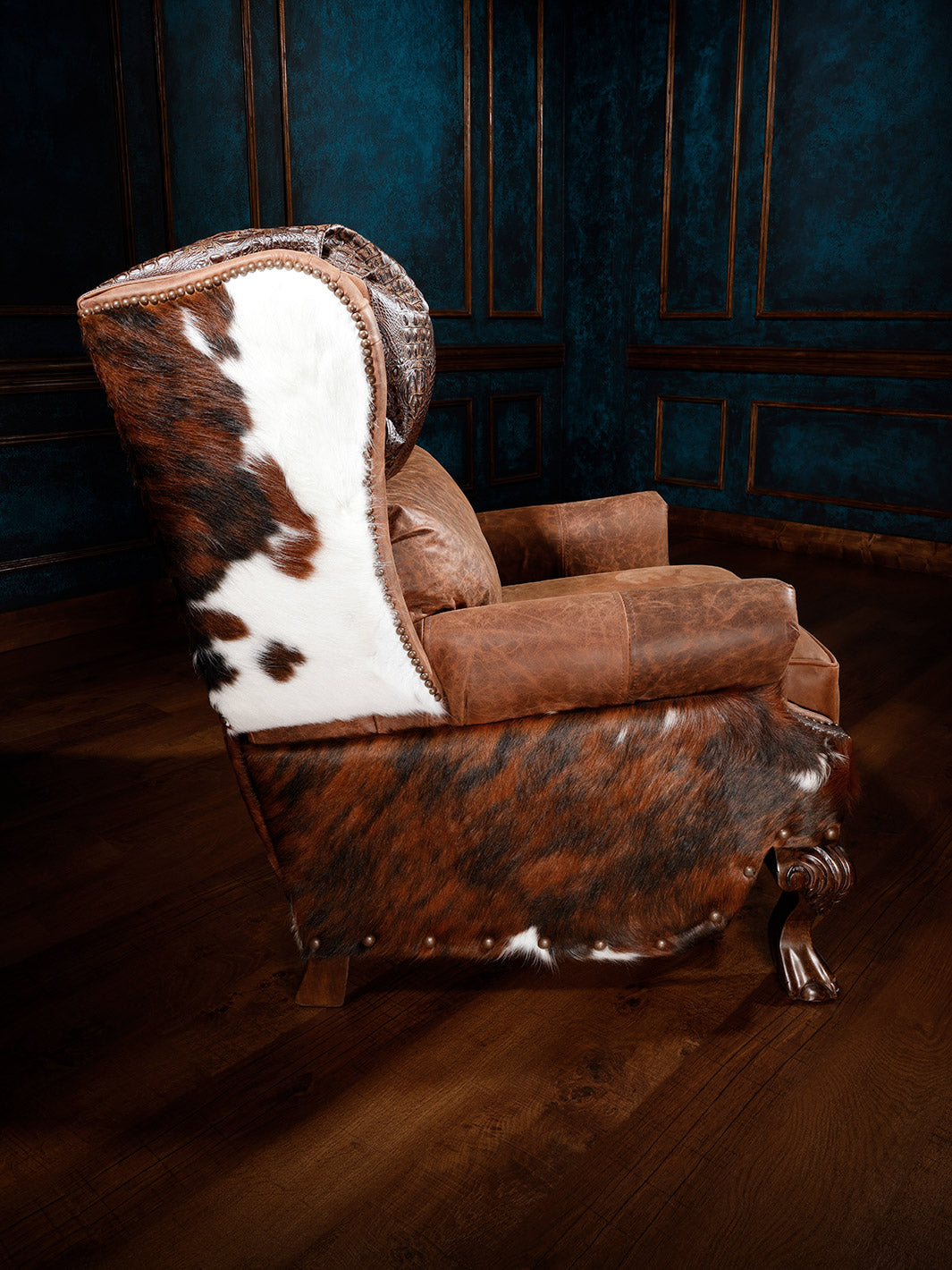 Santa Fe Ball & Claw Pushback Recliner
A statement piece through and through, the Santa Fe Ball & Claw Push Recliner doesn't shy from taking center stage whichever room you place it in. The incredible cushioning on all sides of the recliner is elevated due to the angled reclining, which allows you to stretch your legs and let all your worries of the day float away.
*Croc Brown Copper : Head rest, arm post, and bottom band
*Caprieze Average Brown: Inside Back , Inside Wing, Inside Arm, and Seat
*Cowhide Tri Color : Outside Back, Outside Wing, Outside Arm
*Antique Small Nailheads
*Customization Available

Overall Dimensions:
35" x 40" x 45"
This cushy recliner is handcrafted with all the bells and whistles to maximize your lounging comfort—with a raised croc-embossed leather neck rest and lowered Caprieze Average Brown Leather upholstered armrests. The adjustable raised footrest is upholstered with a mix of croc leather and brown leather to give it that extra touch of luxury. The outside arm, back, and wing are upholstered with tri-color cowhide that offers a generous display of contrast thanks to the white, brown, and black. Finished with vintage nailheads, this old-world recliner wins hearts and a top spot in your home.

Variations in grain, texture, color, and hue distinguish 100% top-grain cowhide leather. Expected healed scars and markings only adds to the skins' inherent beauty. These differences are characteristic of genuine 100% top grain cowhide leather and should not be perceived as flaws.
Leather
Leather is a natural product. Like anything natural, leather is not always perfect. It will have markings that are con- sidered nature's signatures, such as insect bites, scratches, and healed scars. These are part of the beauty of genuine leather; do not mistake these as flaws. There will also be variations in color from hide to hide.

Hair on Hide:
Cowhide that has retained its natural coloring and hair. Brown/white spotted or speckled, black/white spotted or speckled, tan/white spotted or speckled, and brindle light or dark exotic are just a few examples of the many combinations that can be customized onto product.. There is little control over the final hue, making each hide unique.
Avoid using domestic cleaners, DIY remedies, and all-purpose leather cleaners. Pick a product that is intended for unfinished leathers instead. Avoid placing furniture directly in front of the sun to help reduce fading. Due to the absence of a protective finish, spills and soiling on pure aniline leather should be cleaned up right once to prevent permanent discoloration. If a spill happens, clean, dry, absorbent cloth should be used to blot it up as quickly as you can.
NOTICE: Pricing may vary when customizing.