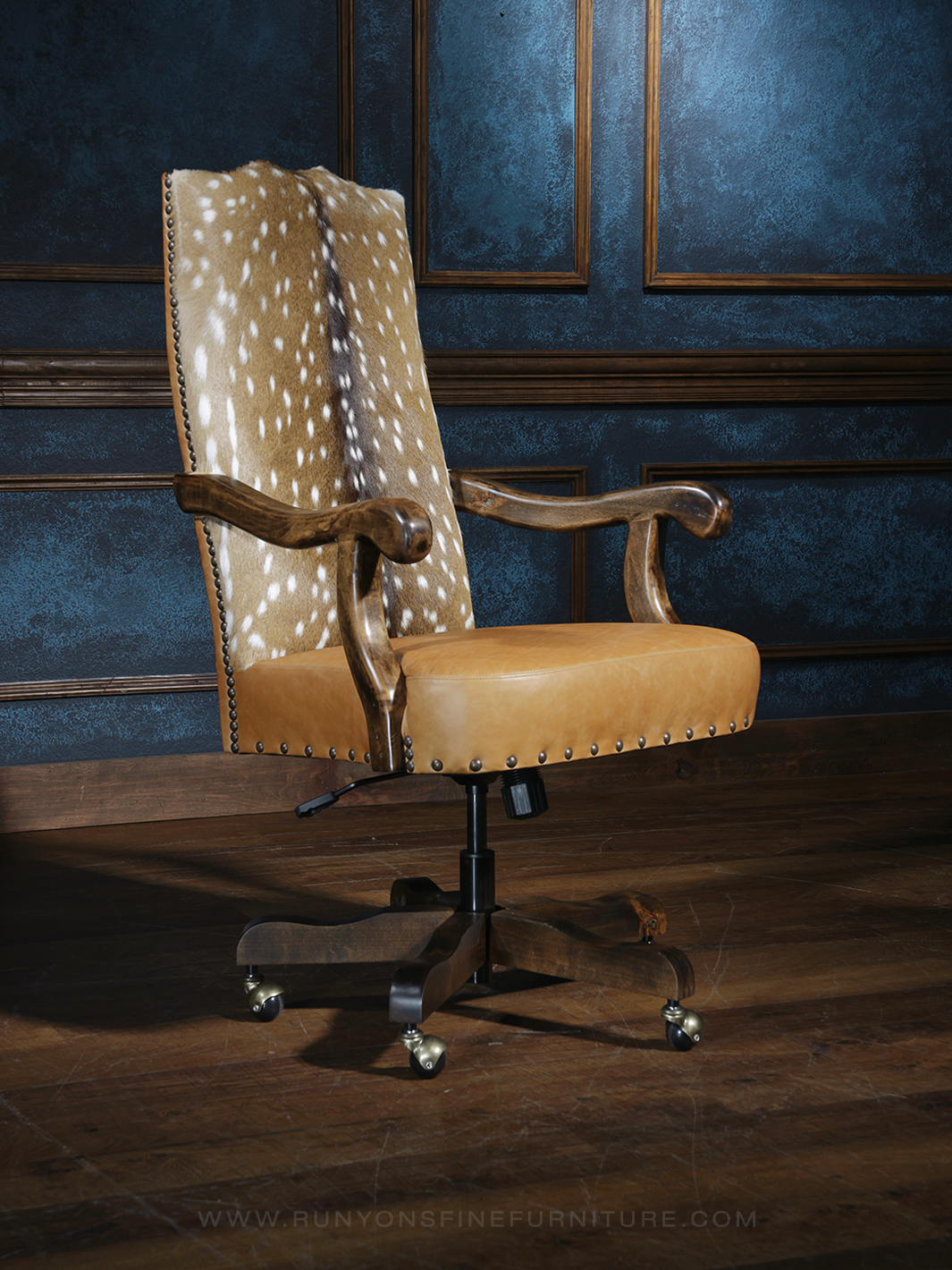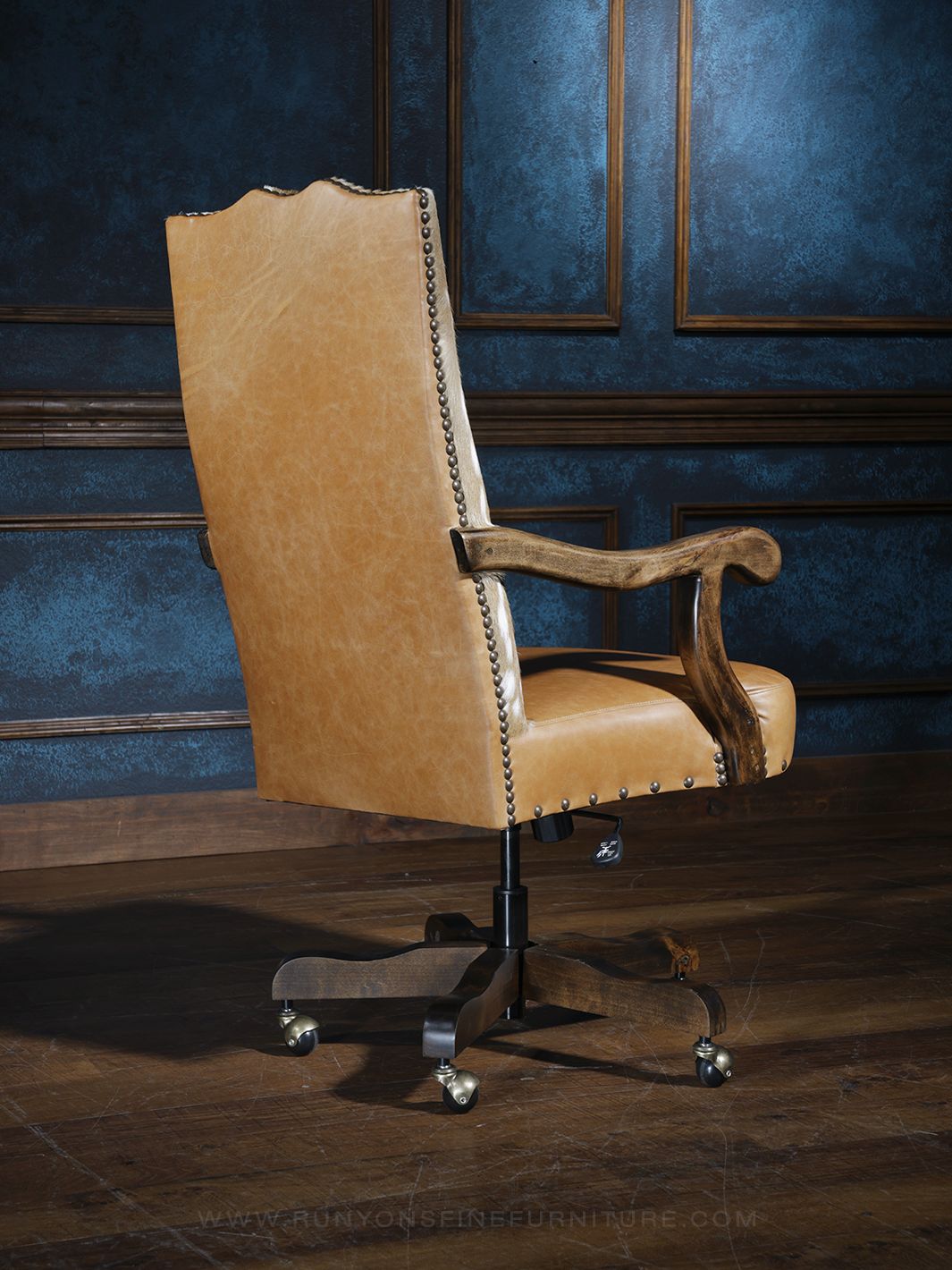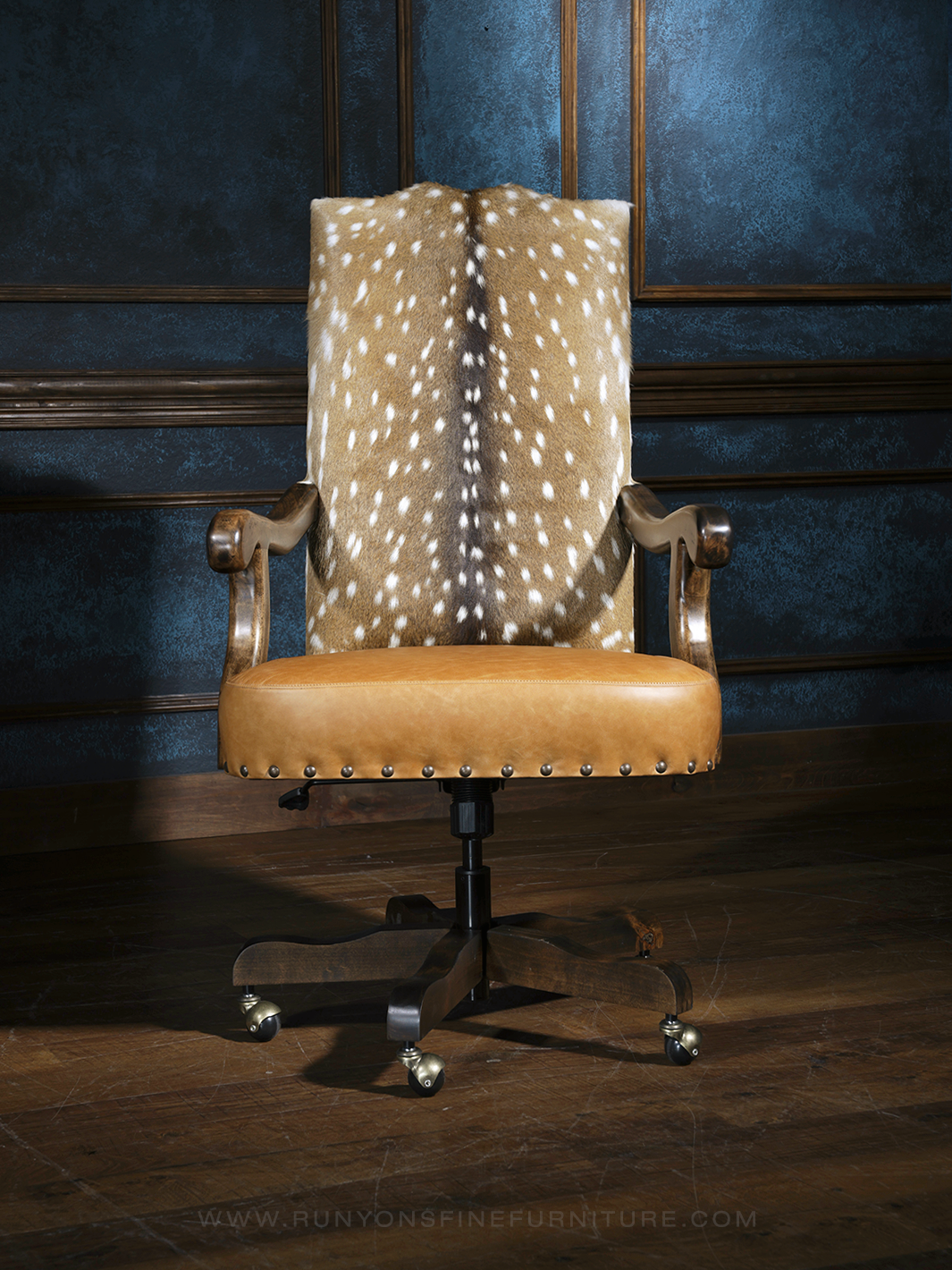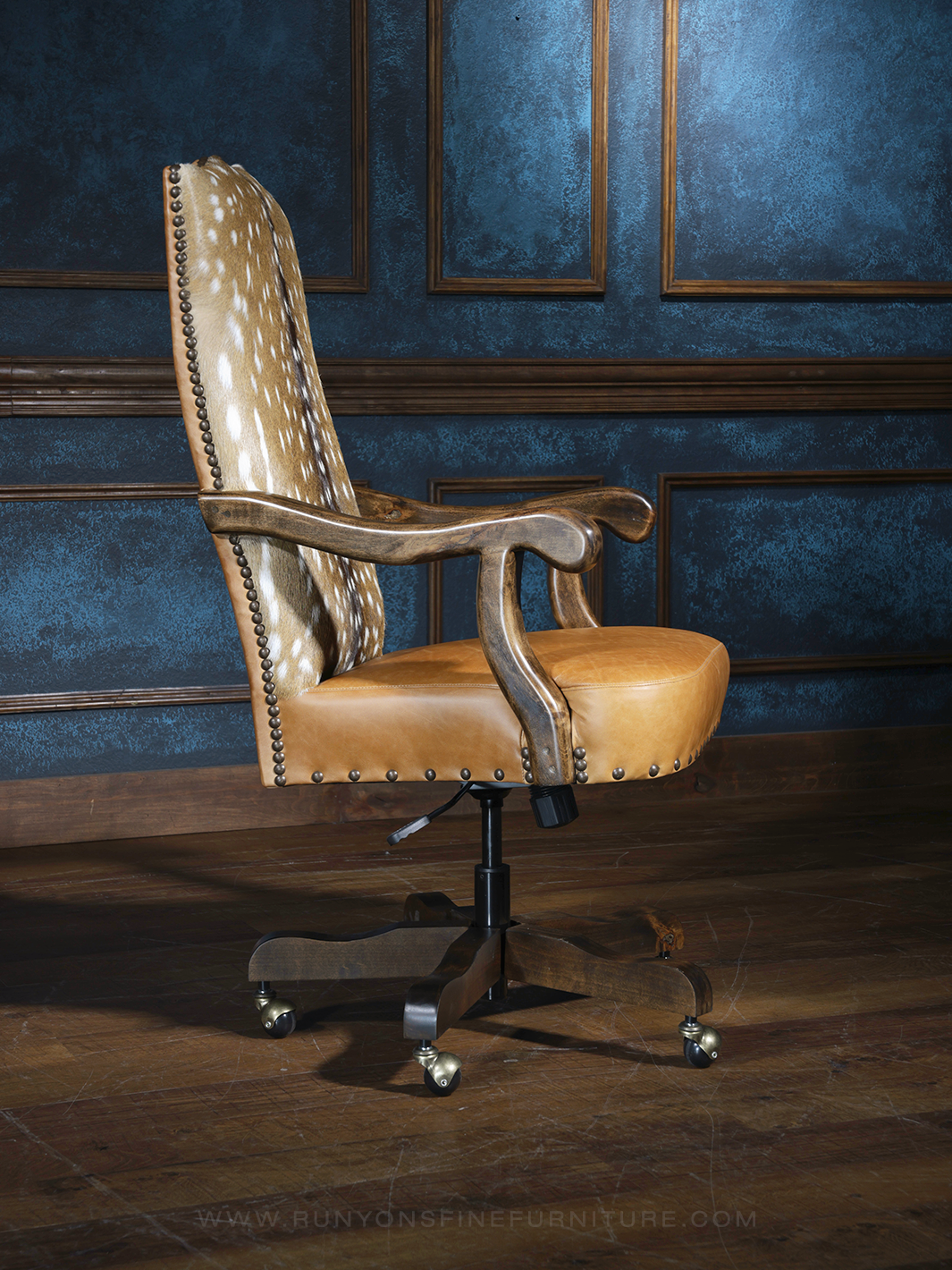 Tuscany Axis Hide Desk Chair
The Axis Hide Desk Chair has a contemporary design featuring top-grain, whiskey hue leather upholstery over an axis interior for a luxurious seating experience. Enjoy enduring comfort and style with this sleek, rustic desk chair.
8-12 week production time.
*Tuscany Cognac leather seat & outside back
*Axis Hide Interior
*Alder wood Frame: Chestnut Finish
*Nailheads
*Adjustable seat
*Customization Available

Overall Dimensions:
27" W x 26" D
Seat Height: Adjusts from 18" to 22"
With our Axis Hide Desk Chair, you can indulge in both comfort and luxury. This custom made desk chair is covered with authentic axis hide and exquisite Italian leather for personalized comfort and long-lasting resilience. This high-quality western office chair is expertly crafted in Texas and is the ideal fit for your home or executive office. The chair's original deer hide serves as its focal point, and cognac tones are complemented with natural accenting. The chair is given a unique vitality with sturdy hardwood accents that will go beautifully with the inviting and warm decor of your office or home. Enjoy the handcrafted, one-of-a-kind uniqueness of the axis hide and leather office chair while embracing its rustic appeal. AVAILABLE TO BE CUSTOM ORDERED WITH A LARGE SELECTION OF DIFFERENT LEATHERS & HIDES.

VARIATIONS IN GRAIN, TEXTURE, COLOR, AND HUE DISTINGUISH 100% TOP-GRAIN COWHIDE LEATHER. EXPECTED HEALED SCARS AND MARKINGS ONLY ADDS TO THE SKINS' INHERENT BEAUTY. THESE DIFFERENCES ARE CHARACTERISTIC OF GENUINE 100% TOP GRAIN COWHIDE LEATHER AND SHOULD NOT BE PERCEIVED AS FLAWS.
Leather:
Tuscany was created to resemble the earthy feel and grain of goatskin in whole cowhides and was named after its home region. This leather has naturally shrunk, giving it a light, airy hand and a somewhat gritty surface that give it a generally casual appearance. The color is applied to the hide in a marbling pattern, creating highs and lows that resemble natural surface shading. In areas of touch, the surface's mild polish will also deepen and darken to a warm gloss. The collection features warm tones with a strong feeling of character and deep, rich dark hues whose depths are meant to last a lifetime. These colors are reminiscent of the countryside in Europe.

Country of Origin : Italy
Tannage : Chrome
Finish : Aniline Plus
Character : Smooth
Grain : Full Grain
Hide Type : Bovine
Features : Aniline dyed, Naturally shrunken grain
Lightly polished surface

Axis Hair on Hide:
Deer hide with all of the hair still present. Each hide has a characteristic dark line running down the middle, or backbone, with two adjacent, mirror-image white spots. 
Avoid using domestic cleaners, DIY remedies, and all-purpose leather cleaners. Pick a product that is intended for unfinished leathers instead. Avoid placing furniture directly in front of the sun to help reduce fading. Due to the absence of a protective finish, spills and soiling on pure aniline leather should be cleaned up right once to prevent permanent discoloration. If a spill happens, clean, dry, absorbent cloth should be used to blot it up as quickly as you can.
NOTICE: Pricing may vary when customizing.
*White Glove/Blanket Wrapped Delivery Available.